Wild grass artisan produced unique herbal tea from grasses in Mt. Aso.
---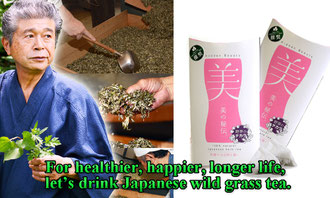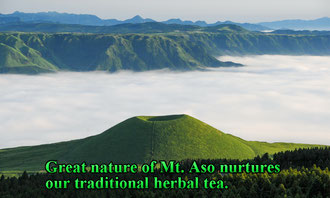 1. Product feature

Do you know why Japanese live long healthy life? There is a secret, "yasou-cha", wild grass herbal tea found everywhere in our rich nature. Among many types of wild grasses, we focused on unique effects of yomogi and dokudami that have been drunken in all generations all over Japan. Mt. Aso is famous for its great nature, and our products are harvested here. For healthier, happier, longer life, why not trying our tea?
2. Competitiveness of product
1) Richer contents of yomogi and dokudami with our excellent blending technology
2) No agrochemical, chemical fertilizer in whole production process
3) Completely organic in soil, water, forest, production method
4) Multifunctional tea in your daily life, can be mixed even with bread and cake
5) Even after drinking, you can put used tea pack in the bath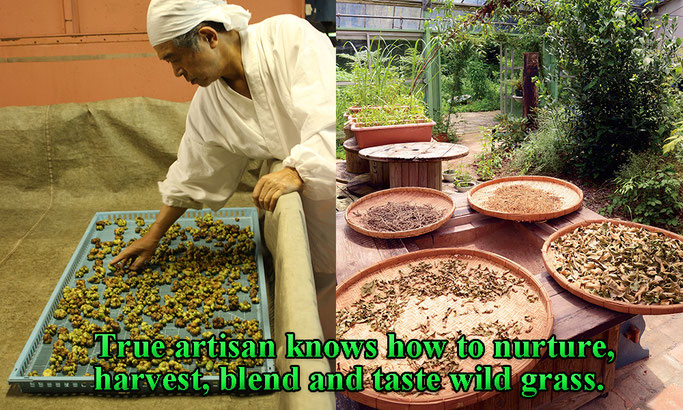 [1. Product outline]
1. Common product name : Wild grass herbal tea
2. Brand name : Bi no hiden (secret of beauty, hidden beauty)
3. Product origin : Aso, Kumamoto, Japan
4. Raw material and ingredient : Artemisia vulgaris indica (yomogi), houttuynia cordata (dokudami), blueberry leaf, glechoma hederacea, corn
5. Production process and method : Harvest, washing, drying, roast, packaging in tea pack or powder processing (no agrochemical and chemical fertilizer at all in whole process)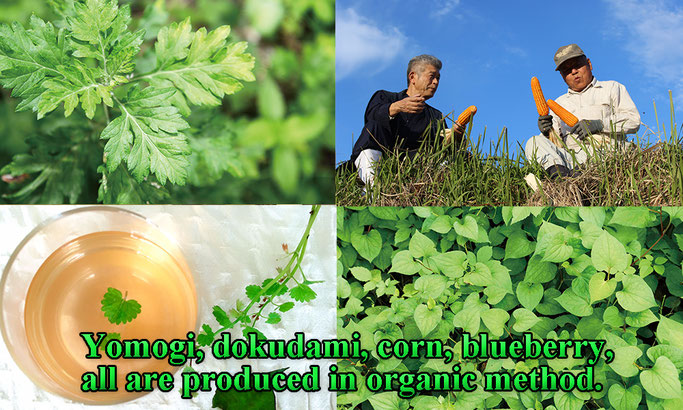 * Nutrition fact of Yomogi (Japanese artemisia vulgaris indica) per 100g

-Energy : 46kcal
-Water : 83.6g
-Protein : 5.2g
-Fat : 0.3g
-Carbonhydrates : 8.7g
-Saturated fatty acid : -
-Carotin : 5300µg
-Vitamin E : 3.2g
-Vitamin K : 340µg
-Vitamin B1 : 0.19mg
-Vitamin B2 : 0.34g
-Niacin : 2.4mg
-Potassium : 10mg
-Kalium : 890mg
-Calcium : 180mg
-Magnesium : 29mg
-Phosphorus : 100mg
-Iron : 4.3mg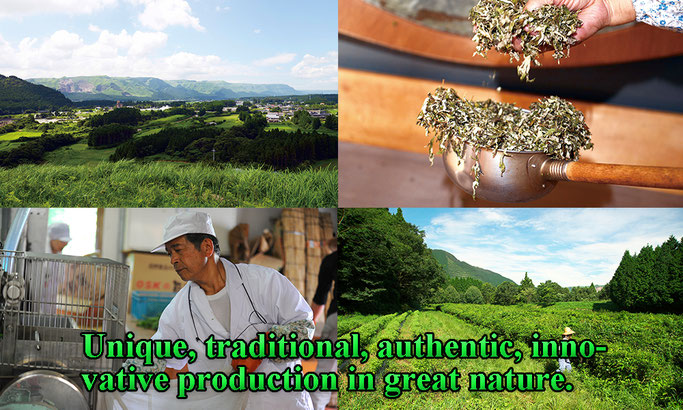 [2.Quantity and size]
1. Product lineup : Tea pack (2g x 15 pack = 30g), Powder in aluminum package 50g
2. Size and weight of package :  Tea pack 225 x 120 x 25mm 82g, Powder in aluminum package 160 x 100 x 50mm 77g
3. Shelflife : 1 year after production
4. Temperature and storage : Avoid direct sunlight and high temperature, store in cool and dry place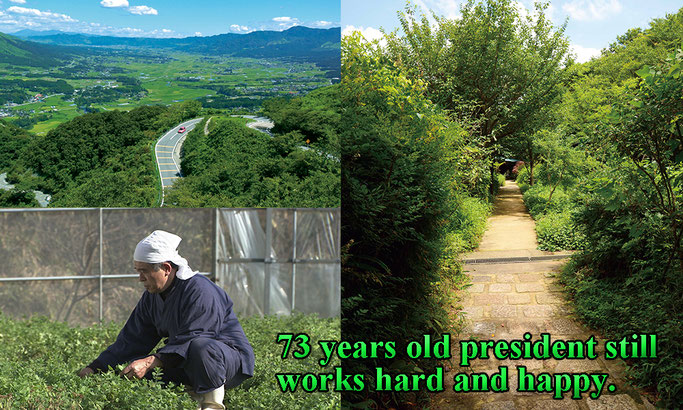 [3. Price, Payment terms, sample]
1. FOB price : Tea pack (2g x 15pcs) JPY 1,580, Powder (50g) JPY 2,780
Check RATES and DELIVERY DAYS (EMS by Japan Post)
* Please choose "Parcel, Weight, Kumamoto" and your country.
2. Payment terms : Cash in advance
3. Payment method : Paypal, T/T
4. MOQ (Minimum order quantity) : Tea pack 10 packages, Powder 5 packages
5. Maximum supply volume : 60kg/year
6. Lead time : Shipment in 1 week after confirming payment
7. HS-code : 0902.40
8. Availability of free sample : Please choose 2 from following samples.
1) 15 tea packs in carton
2) 3 tea packs x 5
3) 10g powder x 5 packs
(EMS freight must paid by buyer)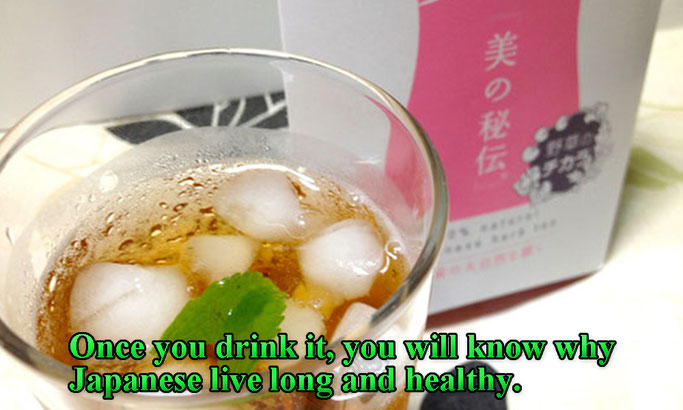 [4. Certificate and document]
1. Available certificate : Non agrochemical residue test report
2. Available test report and MSDS : N/A
3. Certificate of origin : Available
4.Product liability insurance : N/A
5. Non-agrochemical residue certificate : Available
6. Bacteria test report : Available
7. G-GAP(J-GAP) certificate : Not available
8. Organic JAS certificate : Not available
9. Award : Recommended by Japan Traditional Natural Herb Association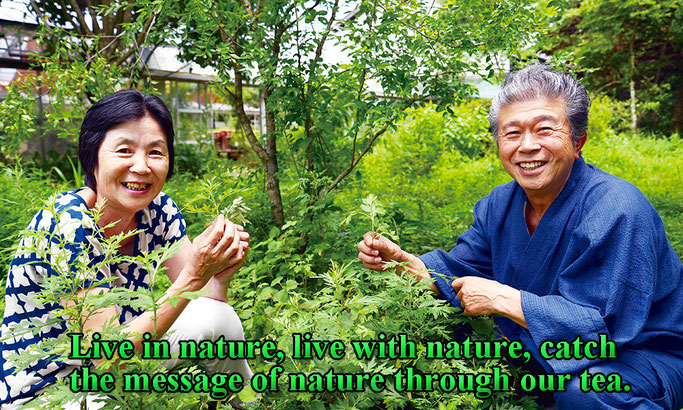 [5 Sales and testimony in Japan]
1. Type of customer in Japan : Women who are interested in detoxification and health
2. Shops in Japan : Organic EC website INYOU, beauty salon, chiropractic clinic
3. Sales record : sold well in shops, EC website, clinic, beauty salon
4. Testimony of customer (major 5 testimony from long time customer)

1) My kids love it and keep healthy because it doesn't contain caffeine.
2) I can mix it with various foods as secret recipe, it increases taste and nutrition.
3) It enhances excretion of unnecessary fat and sugar, works well for anti oxidant.
4) It enhances digestion because it contains rich fiber, helps my blood purify.
5) After drinking it, I put it into bath because it is good for my skin as well.
[6 Benefit for health, how to use]
1. Benefit for health (according to medical analysis and testimony from Japanese customer)
1) Detoxification, preventing constipation
2) Reducing fat, sugar, cholesterol, good for diet
3) Enhancing digestion, excretion, anti oxidant, anti saccharification
4) Keeping body warm, preventing low blood pressure and anemia, easing stomach pain
5) Curing external wound, disinfection (put tea pack in the bath after drinking)

2. How to cook, prepare
1) Drink with hot water (60-85℃)
2) Drink with normal temperature water
3) Mix powder with rock salt for the dishes of meat and fish
4) Add powder in flour when you bake bread, cook spaghetti, cake, sweet (In Japan yomogi cake is traditional snack for kids

3. Precaution
1) For customer who has weak stomach, please drink with less amount first.
2) For customer who suffers from chronic coprostasis, please drink with less amount first.
3) In early days when you drink, you might go to toilet more often due to detoxification effect of tea.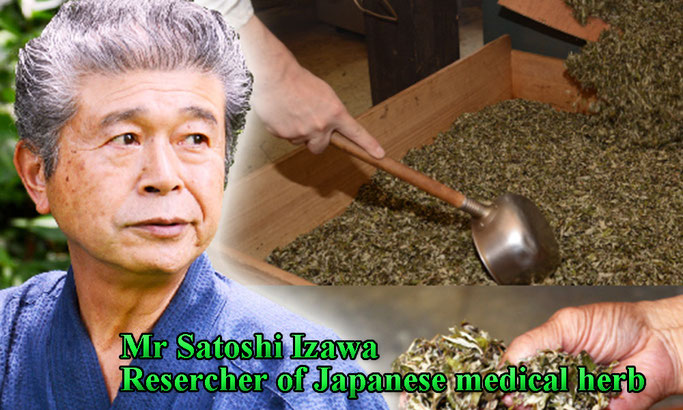 [7 Message from president]

In Japan "yasou-cha" (wild leaf tea) has been indispensable to keep healthy life. Mt. Aso is famous for its largest caldera and rich water source, there are plenty of natural herbs around Mt. Aso. Among others, we focused on great effect of yomogi and dokudami. However mixing yomogi fiber in tea had been difficult because it gets sticky when it is packed in tea pack. After many times of trial and error, finally we could have been succeeded in producing our natural wild grasses in compact tea pack. We don't use any agrochemical and chemical fertilizer at all in whole process in the production. The balance and ratio of each ingredients are supervised by Mr Satoshi Izawa (medical herb researcher, president of Aso Herb Factory) who could reduce a certain amount of medical expenses for many old patients. Wild grass herbal tes is true Japanese culture to enjoy life. Please feel the power of Japanese nature through our tea.
---