Harvested in 800m highland Shiiba village, matches various menus.
---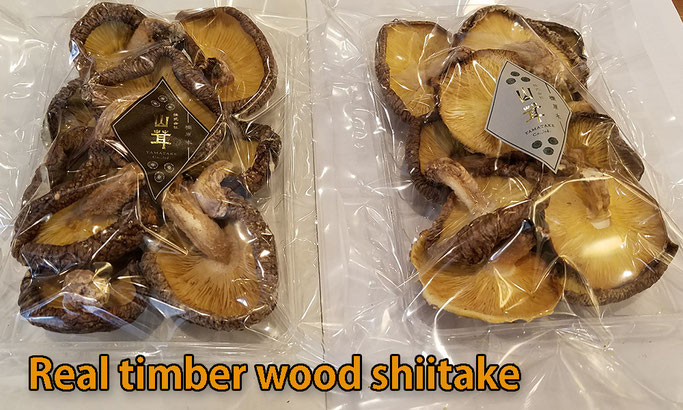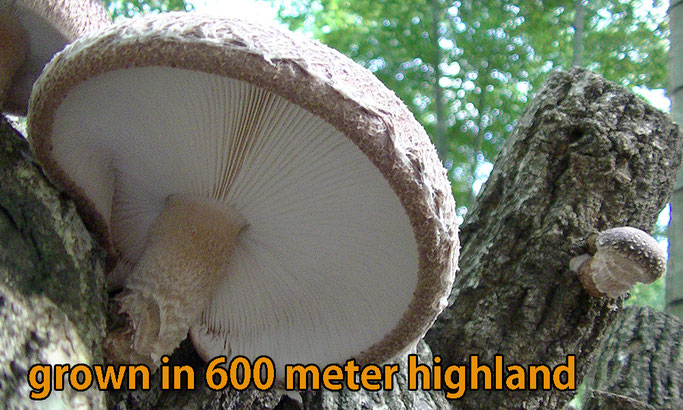 [1]  Product Outline

1. Common product name
Donko (timber wood dry shiitake) : shiitake with rounded shape head, thicker edge
Koushin (timber wood dry shiitake) : shiitake with open shape head
2. Brand name : Yamatake (mountain shiitake)
3. Product origin : Shiiba village, Miyazaki, Japan
4. Raw material and ingredient
Yamatake timber wood shiitake is totally natural. When it is compared to mushroom bed shiitake, Yamatake is superior in taste, flavor, fragrance, texture, safety.
It contains,
-    Dietary fiber : Raw shiitake contains 3.5g, dry shiitake contains 41g. That means 40% in total weight consists of dietary fiber.
-    β-glucan : Our shiitake contains rich β-glucan (polysaccharide), it is said to be good for easing blood flow, smoothing skin texture, balancing body temperature, lowering cholesterol, reducing glycemic response.
-    Vitamin D2 : Shiitake is known for its rich content of vitamin D2. Timber wood raw shiitake contains 7 times more vitamin D2 compared to milk and raw liver. Dry shiitake contains more than 50 times more vitamin D2.
-    Guanylic acid : It is so called "umami" element in addition to glutamic acid and inosinic acid. These are three major umami ingredients.
-    Eritadenine : This is unique ingredient of shiitake, the content is 100 times more than mushroom. Eritadenine is said to be good for reducing blood pressure.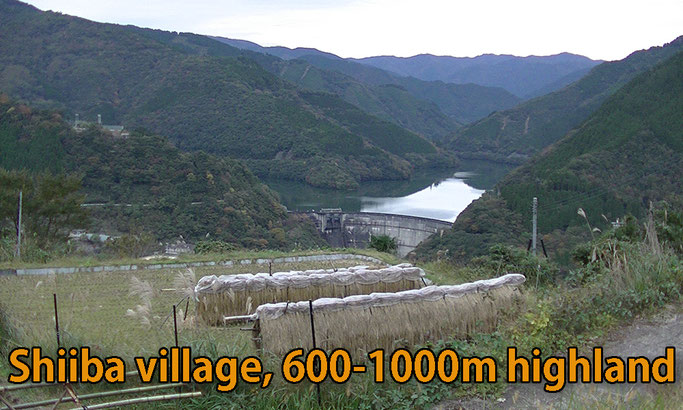 5. Production process and method

[Surrounding environment of Yamatake]
The special feature of Yamatake is "harvest in highland (600m above sea level)". The production cycle is carefully operated in every decade. We plant and cut natural oak trees to prevent the ruin of oak forest in Shiiba village, and we make the full use of cut oak timbers to plant shiitake. Although the climate is severe in the highland, it maximize the taste, flavor of our shiitake. For us Yamatake is a gift, like an art given by the nature. Once you taste it, you will surely see the difference from normal shiitake.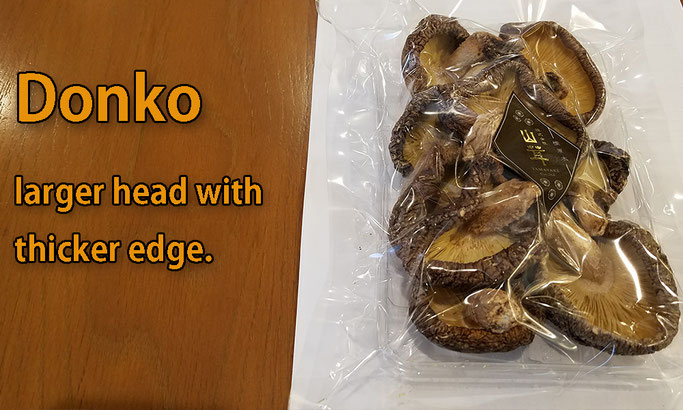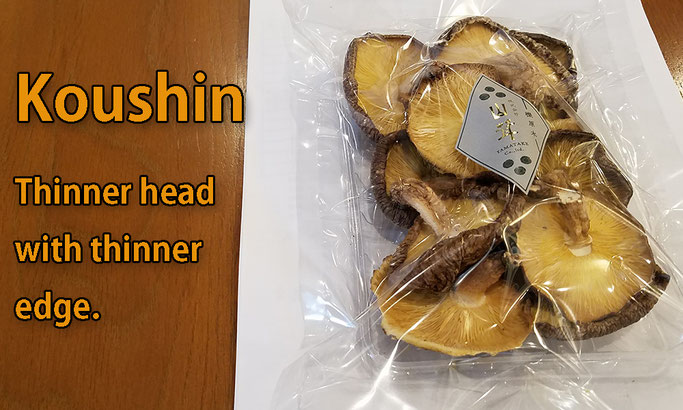 [Production process]
Cut, pressing fungus into a hole of oak timber, cultivation, harvest, dry with a special machine, separation in size, packaging, distribution

1) We cut natural oak trees in the highland in Shiiba village.
2) We press shiitake fungus manually into a hole of oak timber.
3) We arrange oak trees in the forest with selecting the position, wind flow carefully.
4) After 3 years in proper management, we harvest each shiitake with watching the age, size, maturity and quality. All processes are operated manually.
5) We dry shiitake as soon as we harvest it. We carefully check the temperature and duration to maximize umami taste.
6) We separate Donko and Koushin with our own eyes, in the next we separate in the size.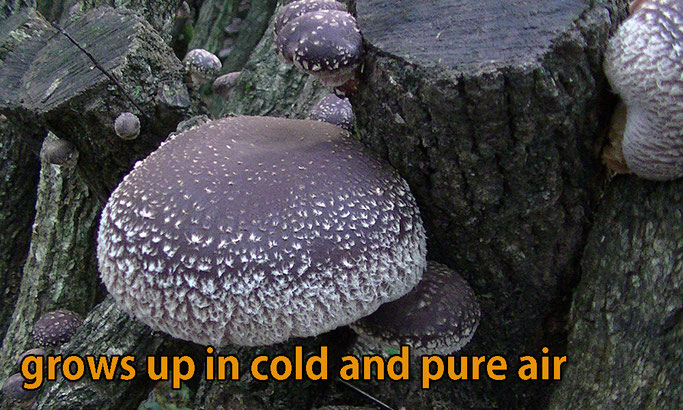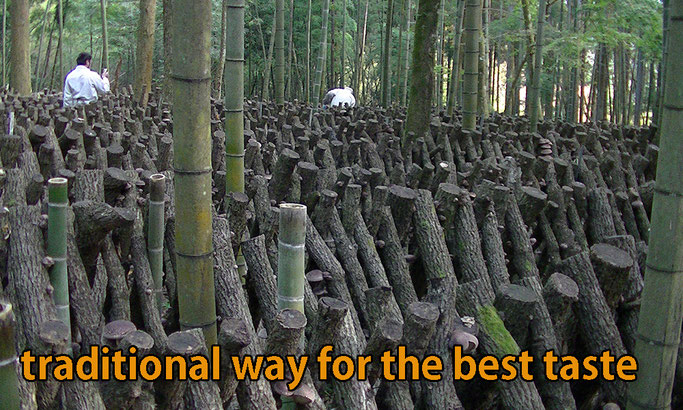 [2] Quantity and size

1. Product lineup
Donko (timber wood dry shiitake) : shiitake with rounded shape head
Koushin (timber wood dry shiitake) : shiitake with open shape head
2. Size and weight of package (Donko, Koushin)
50g in PET bag (180mm×280mm×40mm, with bag 62g)
500g in PET bag (350mm×460mm×50mm, with bag 533g)
1kg in cardboard box (360mm×540mm×300mm, with box 1934g)
3. Shelflife : 1 year after production
4. Temperature and storage : Avoid high temperature and humidity
5. Silica gel : Included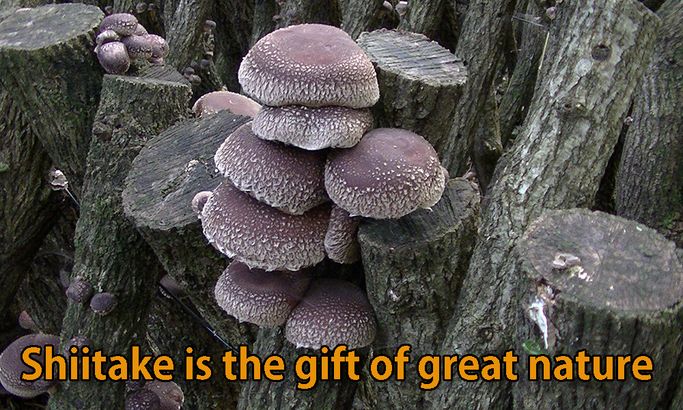 [3] Price, Payment terms, sample

1. FOB price
- Donko
50g : JPY 780/pack
500g : JPY 5,800/pack
1kg : JPY 11,800/box
-    Koushin
25g : JPY 480/pack
500g : JPY 5,400/pack
1kg : JPY 9,800/box
Check RATES and DELIVERY DAYS (EMS by Japan Post)
* Please choose "Parcel, Weight, Miyazaki" and your country.
2. Payment terms : Cash in advance
3. Payment method : Paypal, T/T
4. MOQ
- Donko
50g : 100 packages = JPY 78,000
500g : 10 packages = JPY 58,000
1kg : 10 boxex = JPY 118,000
-    Koushin
25g : 100 packages = JPY 48,000
500g : 10 packages = JPY 54,000
1kg : 10 boxes = JPY 98,000
5. Maximum supply volume
- The number of oak timbers : 150,000
- 5,000kg in dry weight/year
6. Lead time : Shipment 1-2 weeks after confirming payment
7. HS-code : 0712.39.100
8. Availability of free sample
(EMS freight must paid by buyer)
-    Free sample : Donko 30g x 2
-    Paid sample : Donko 50g x 5 = JPY 3,400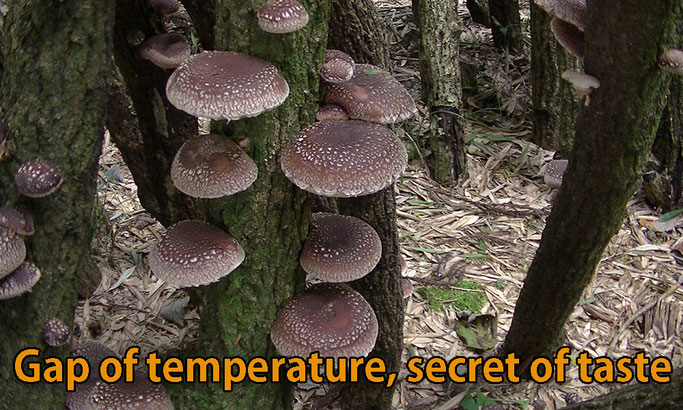 [4] Certificate and document
 1. Certificate of origin : available
2. Product liability insurance : available (now in Japan only)
3. Non-agrochemical residue certificate : available soon
4. G-GAP(J-GAP) certificate : planning to obtain
5. Organic JAS certificate : planning to obtain
6. Award : Awarded in dry shiitake contest in Miyazaki prefecture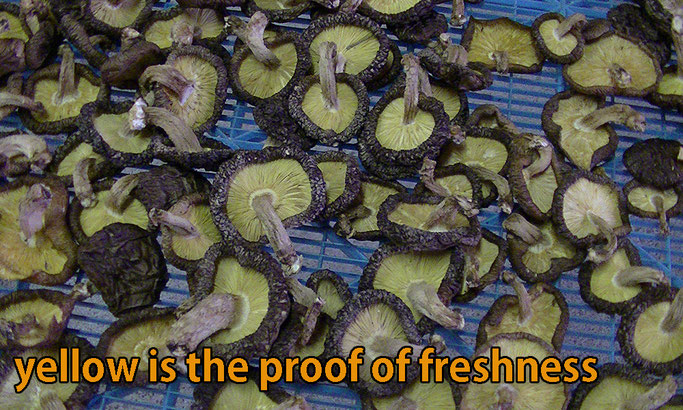 [5]Sales in Japan

1. Type of customer in Japan
- Customers who want real authentic Japanese foods
- Customers who want special condiment, side dish
- Premium wagyu beef restaurants (Italy)
2. Shops in Japan : Natural Harmony, Top World, Hankyu Oasis etc
3. Sales (Italy) :  Bottega Liberati (retail), Bonci (for pizza), Castroni (import foods)
4. Publicity, media information
- UMK TV Miyazaki
- Miyazaki Cable Television
- Agriculture Economy News
- Japan Mushroom News
etc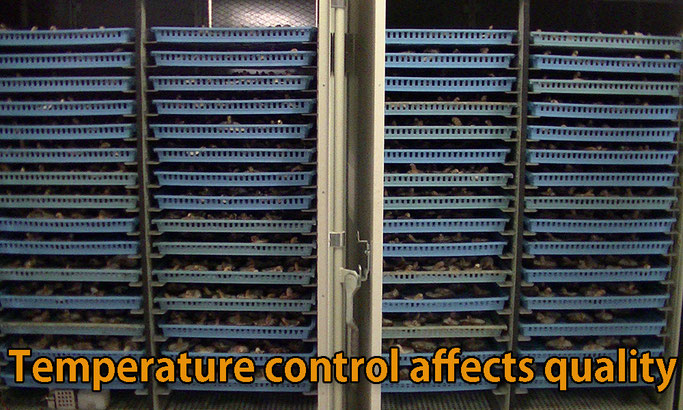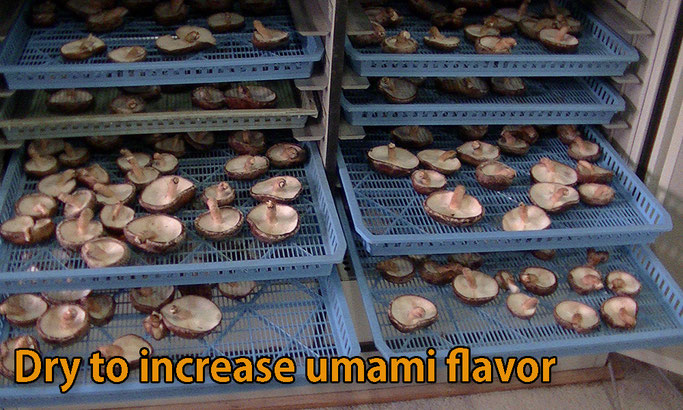 [6] How to use

[1. How to soak shiitake well]
1) Wash shiitake with water (only for removing dust)
2) Pour water into bowl (water level is almost same height with shiitake)
3) Store the bowl in the refrigerator for 5-10 hours (time depends on the thickness of shiitake. If it is thick, please store longer.)
* 10 hours in 5℃ cold water is suggested. (if it is thin, 5 hours is OK)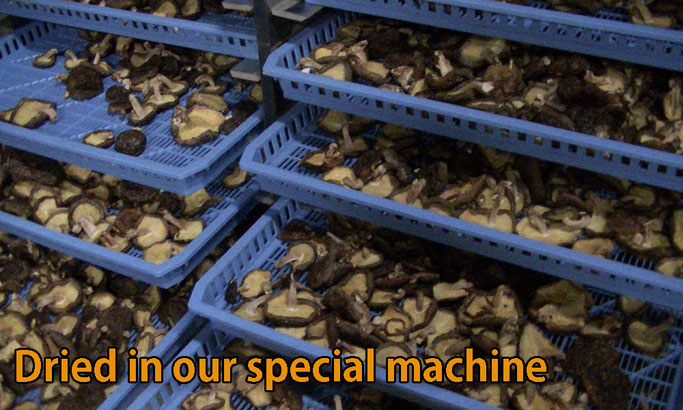 [2. Useful tips]

Shiitake is more delicious when it is soaked in cold water in longer time. If it is soaked in hot water, the taste becomes bitter and astringent, and less umami. The umami factor guanylic acid is extracted more when the water temperature is proper. When we soaked in hot water, the amount of guanylic acid was 0.5mg, 20mg in normal temperature, and 160mg in cold water. That means umami is 320 times more in cold water (5℃) compared to being soaked in hot water.

1) Please soak dry shiitake in refrigerator with 5℃ cold water
2) 10 hours for thick shiitake, 5 hours for thin shiitake, please take time.
3) If you store it, please make sure the container is closed tightly when you put it in the refrigerator.
[3. Recipe]

Dry timber wood shiitake already contains rich umami, so we recommend you to cook it simply to enjoy the taste.

1) Garnish in wagyu beef steak
After soaking, please fry shiitake with the bouillon of steak.

2) Thick steak with timber wood shiitake
[Ingredients *for 2 persons]
Donko : 4
Soaked soup : 50cc
Sake : 2 spoons
Soy sauce : 1/2 spoon
Butter : 5g
Salt : a little bit
Pepper : a little bit
Wheat flour : 1 spoon
Tomato : 1
-sauce-
Black vinegar : 100cc
Sugar : 2 spoons
Sake : 1 spoon
Butter : 5g

1. Wash shiitake with water, soak and keep it in refrigerator for 10 hours.
2. Squeeze soaked shiitake a bit, cut body off, and make a small cut in front and back.
3. Add slight taste with salt and pepper, dip in wheat flour.
4. Put butter in hot frying pan, frizzle both side of shiitake, turn shiitake around and grill it well.
5. Take body of shiitake again, add soaked soup and sake, cover frying pan, steam it.
6. When it is steamed well, add soy sauce and take shiitake out.
7. Add ingredients (except butter) in frying pan. When the amount becomes 1/3, add butter.
8.  Cut shiitake in 2-3 pieces. Lay cut tomato on the plate, put shiitake on the tomato, add sauce, now completed.

4. Precaution
We must avoid humidity if we want to enjoy the real taste of shiitake. Once opened, please close the bag tightly. If it is not closed tightly, it will be spoiled. We recommend you to keep it in the refrigerator.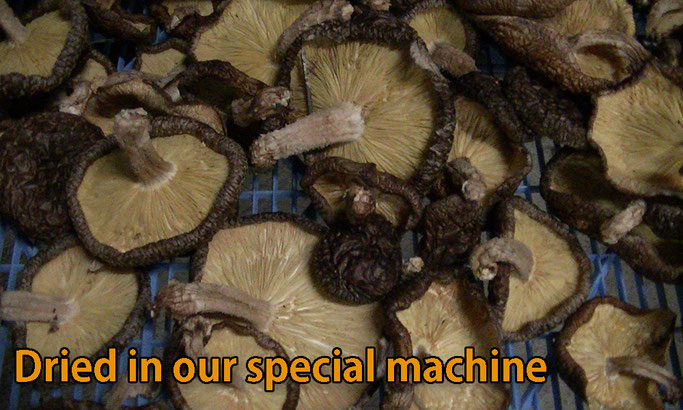 [7] Message from president

I inherited our family business, produce timber wood shiitake. Our Shiiba village is famous as the "most beautiful village" in Japan. Most part of shiitake cultivation is forestry, it requires lots of human labor, it takes 2-3 years in one cycle before the harvest. Therefore, now less people produce timber wood shiitake in Japan. Actually mushroom bed shiitake is major recently because of its efficiency, convenience. However, we can't meet the real taste when shiitake is produced in mushroom bed. The real taste of shiitake can only be brought to you through the harvest in natural oak timber wood cultivation. Our farm is located in the highland, 600-1000m above sea level. When shiitake is cultivated in highland, the taste is more concentrated because growing process takes more time. This is the "shiitake in the land of mystery". In Japanese language we call mushroom "Kinoko", it literally means "son of wood", our timber wood shiitake is truly a son of wood, forest, nature. We want you to enjoy the taste of the best shiitake in Japan.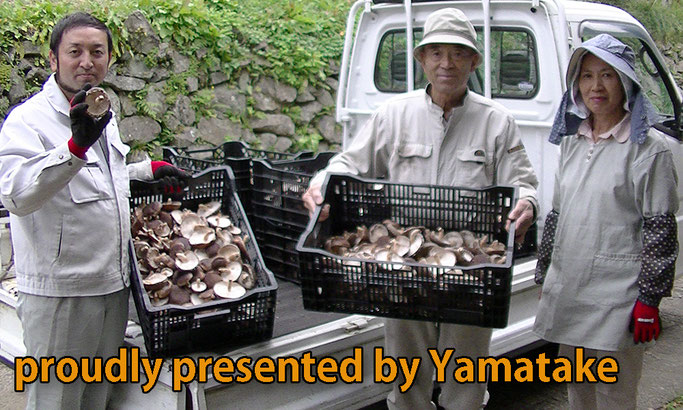 ---