Authentic whole soybean soy sauce Hanafusa
---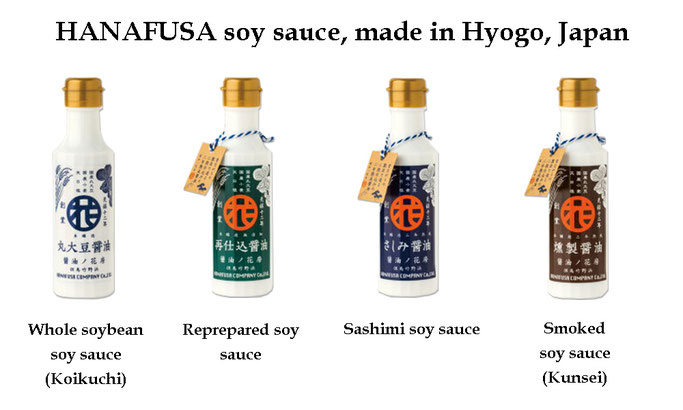 [Product Feature]

1. Our soy sauce is made of Non GMO whole soybean (maru daizu shoyu).
2. Mozart is played in the brewing chamber.
3. Natural and tradional productin method in the area called Tajima Takenohama (Hyogo prefecture).
4. Perfect control of temperature and humidity in the brewing chamber.
[Competitiveness of product]

1. It is made of 100% carefully selected Japanese whole soybean (not defatted) and Japanese wheat.
2. Finishing salt water is made of solar salt.
3. 3 days for malted rice (koji mold, aspergillus oryzae).
4. 1 year for fermentation.
5. 1 year for repreparation.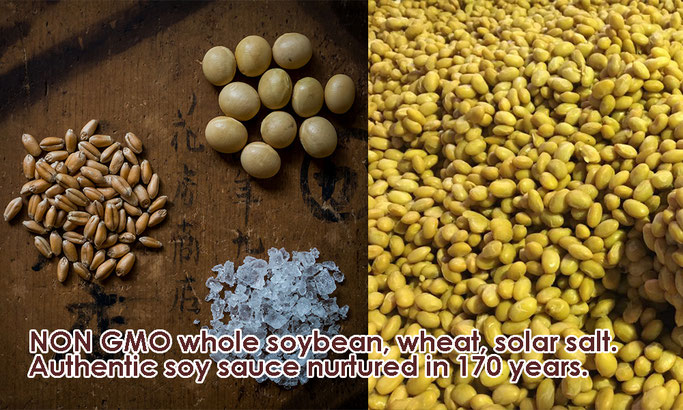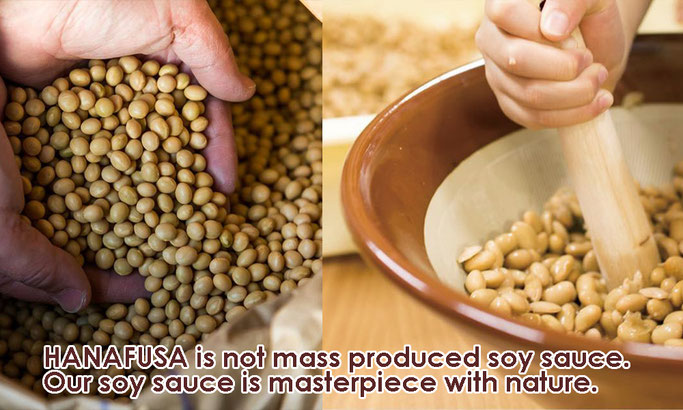 1. Product information

1. Common product name : Whole soybean soy sauce
2. Brand name : Hanafusa soy sauce
3. Product origin : Hyogo, Japan
4. Raw material, ingredient
1) Whole soybean soy sauce (Koikuchi)
Whole soybean, wheat, solar salt (made in Mexico)
2) Reprepared soy sauce
Whole soybean, wheat, solar salt (made in Mexico)
3) Sashimi soy sauce
Whole soybean, wheat, solar salt (made in Mexico), sugar
4) Smoked soy sauce (Kunsei)
Whole soybean, wheat, solar salt (made in Mexico)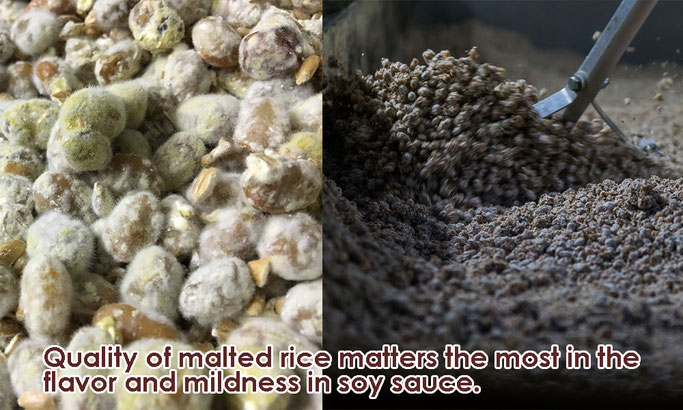 5. Production process
1) Steam soybean
2) Roast wheat,
3) Make salt water
4) Make malted rice
5) Prepare with malted rice
6) Store and fermentation
7) Squeezing (mash, moromi)
8) Deep fry
9) Heating (to stop fermentation)
10) Filtering
11) Measuring weight
12) Bottling in pottery bottle
13) Shipment
6. Size, quantity, weight (4 types)
Size : Height 17cm, Diameter 4.8cm
Quantity : 150ml/bottle
Weight : 350g/bottle
7. Measurement and weight including package and carton
Measurement : L 20cm, W 10cm, H 18cm
Weight : 3kg/carton (8 bottles)
8. Shelf life/Product life span : 18 months (1 month after opening, 2-3 months in refrigerator)
9. Temperature in transportation and storage
It can be kept in normal temperature.
Avoid direct sunlight.
Avoid humidity.
Keep in refrigerator after opening.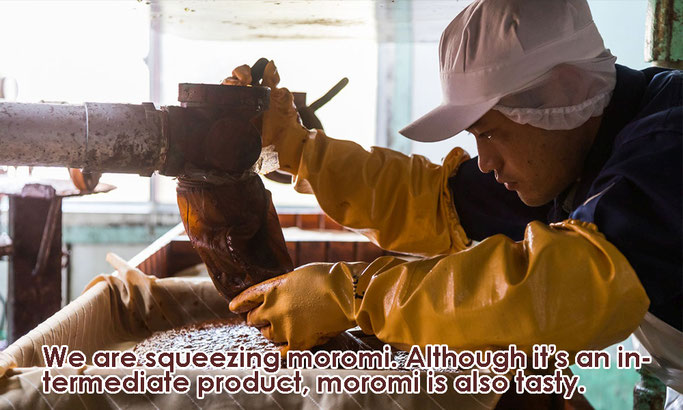 2. Price, Payment terms, sample

1. FOB Price : JPY 4,600/carton (8 bottles)
* Including PayPal payment handling fee
2. Payment terms : Cash in advance
3. Payment method : Paypal, T/T
4. MOQ : 5 cartons (40 bottles, 24kg), JPY 23,000
5. Maximum supply volume : 5,000-10,000 bottles/month
6. Lead time : 2 weeks after confiming payment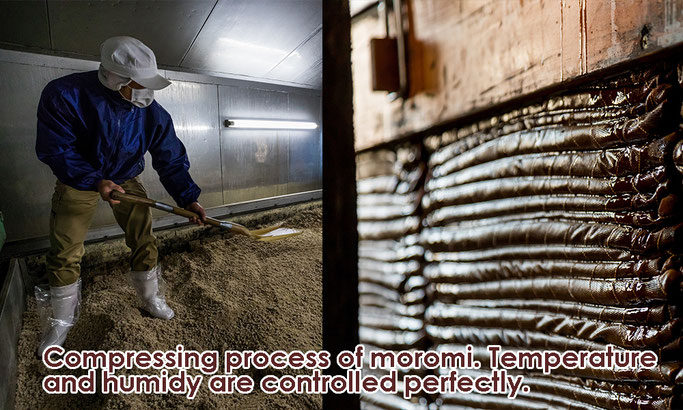 7. Air freight in EMS, SAL, air cargo
RATE
- Choose "Parcel"
- Add weight (25kg including outer carton)
- Choose "Hyogo"
- Choose your country
8. HS-code : 2103.10.00
9. Availability of sample : 1 bottle is available
(EMS freight is paid by buyer)
10. Availability, requirements in supplying in OEM, ODM, PB (Private Brand) : Please ask
11. Available dealership in your country : Please ask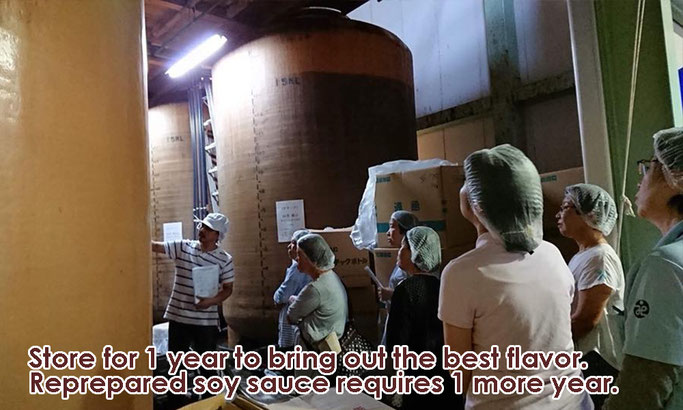 3. Certificate, document, sales information

1. Available test report, data : bacteria test report
2. Certificate of origin : available
3. Main client, customer in Japan : chef, sushi master, Japanese food lovers
4. Shop in Japan, sales record
Shop : Hyogo Furusatokan, Jibasan TAJIMA, Nanaform Suma
Sales : 2,000 bottles/month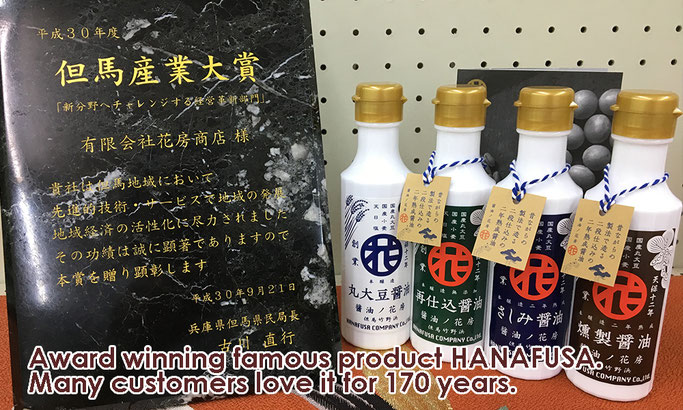 5. Testimony of customer
1) Especially good with boiled tofu.
2) Fascinated with it when I stayed in Kinosaki onsen, I found it in the gift shop of my hotel and bought immediately.
3) It makes taste of sashimi sharp.
4) For me, using in tuna sashimi pot rice is the best.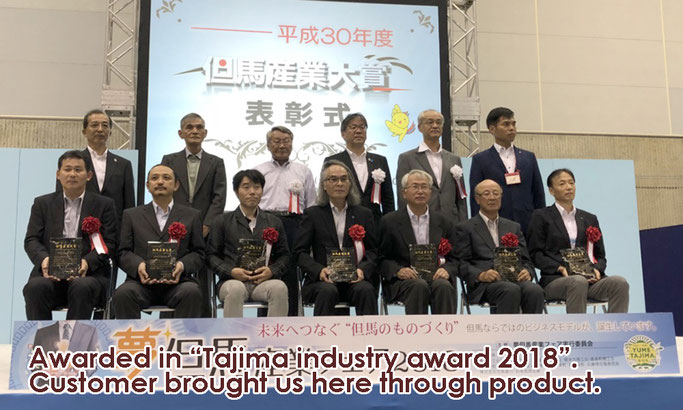 6. How to use : Dip, spray, mix with fish, meat, vegetable (most of Japanese foods)
7. Popular menu
1) Whole soybean soy sauce (Koikuchi) : boiled food, grilled food
2) Reprepared soy sauce : Sashimi, sushi, steak, cold tofu, finishing of boiled food (soup)
3) Sashimi soy sauce : Sashimi, sushi, steak, cold tofu, salad
4) Smoked soy sauce (Kunsei) : spraying, egg
5)Notice : Please keep it in refrigerator after using.
Message of the president

Hanafusa soy sauce was established 170 years ago from a local malted rice brewery in Hyogo. Since then, with facing drastic changes of era we have developed soy sauce, miso, koji related unique original products. Japanese foods have also been changing through the influence of Chinese foods and western foods. Our mission is to preserve tradition at the same time we create something new for the future.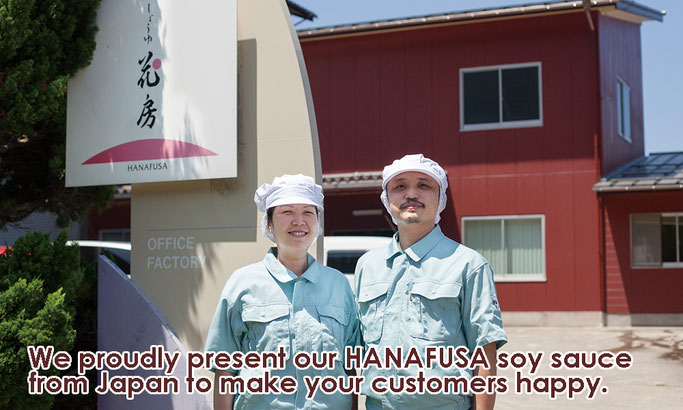 FAQ

Q1. Why do you choose whole soybean (maru daizu)?
A : First of all, it's because of safety and taste, and NON GMO. The second, maru daizu can offer the better experience in mildness and flavor of soy sauce for customers. Although it costs 3 times higher than ordinary beans and method, we don't want to compromise in quality. Our effort is for customers.

Q2. Is preservatives added in it?
A : No, not at all.

Q3. Does it cause allergy?
A : Soy sauce is made of soybean, wheat and miso, therefore it may cause allergy for those who have allergy.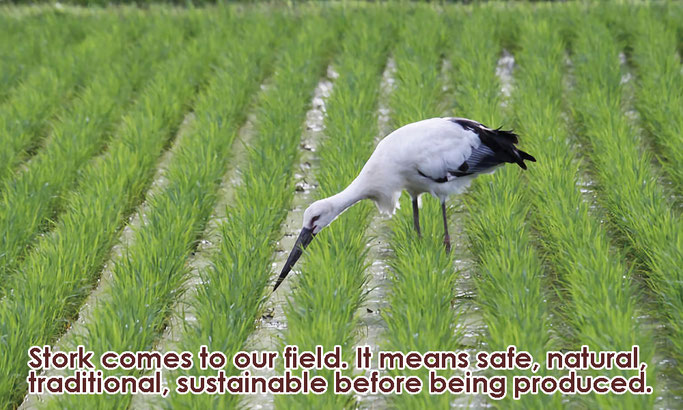 ---