Harvested in Kyushu island, made of Japanese fruits.
---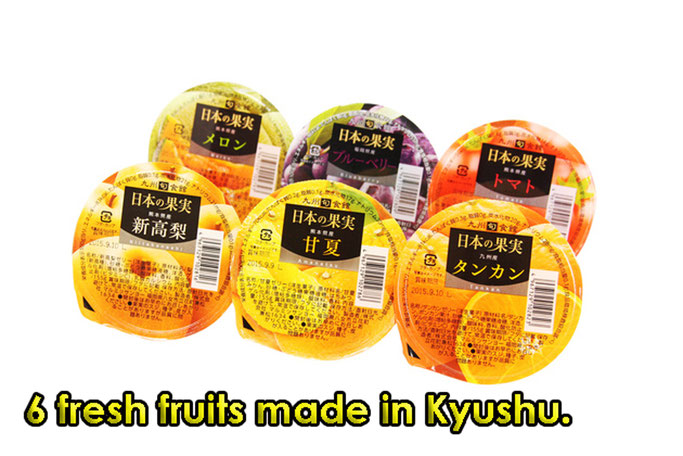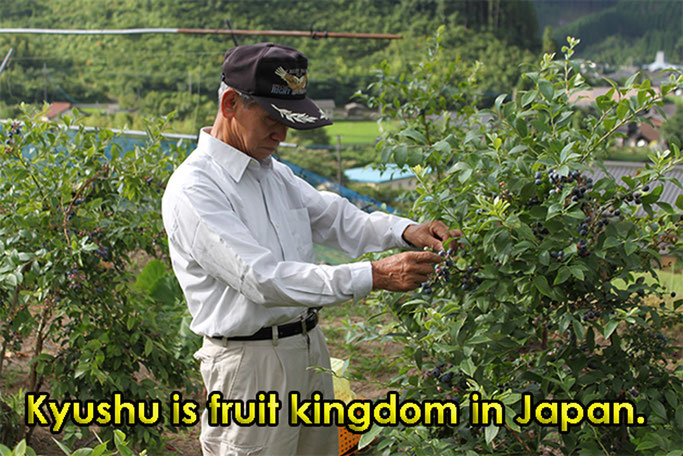 1.Product Feature

6 types of delicious Kyushu fruits jellies with chunky fruits packed in transparent cups. They are processed at our own factory from raw fresh fruits materials to make full use of the flavor of the fruits. We carefully select the ingredients of jelly made from seaweed, not from any animal gelatin. You can store it at room temperature and enjoy freshness. Just put the jelly to a nice glass container, it is a wonderful dessert for customer. If you freeze it, you can enjoy the different texture as a sherbet. Assortment boxes are perfect for gifts to your customer.
2. Competitiveness of product

1. We offer 6 types of flavors (Amanatsu citrus, melon, blueberry, Tankan citrus, Shin-takanashi pear, tomato) with typical Kyushu fruits which you don't find in Southeast Asia.
2. Superior taste and flavor of jelly with big fruits chunks in transparent cups will attract customer.
3. Longer expiration date than raw fruits makes storage and distribution easier.
4. As we make jelly made from seaweed, not animal gelatin, it will surely satisfy health-conscious customer.
5. Obtained tax exempt certification for Thailand by JTEPA with Certificate of Origin in Japan.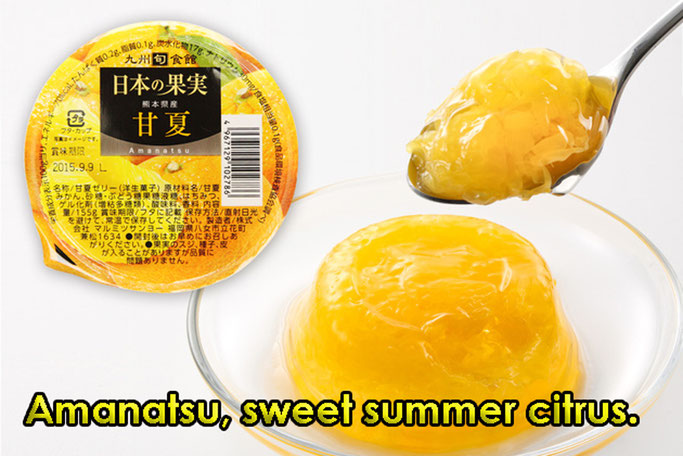 [1] Product Outline

1. Common product name : Fruit Jelly
2. Brand name : Kyushu Shun Shokukan
3. Product origin : Fukuoka, Japan
4. Raw material and ingredient : Each kind of fruits, sugar dextrose fructose liquid sugar, honey, gelling agent, acidulant. Heat-sterilized cupped jellies with amanatsu citrus, melon, blueberry, tomato, pear, and tankan citrus flavors
5. Production process and method : Canned processing seasonal fruits - opening cans - sorting and packing fruits pulps - pouring liquid jelly - sealing - sterilization - cooling - inspection shipment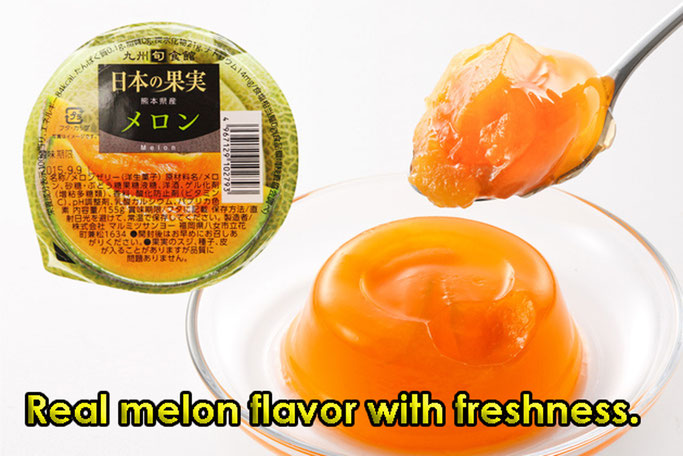 [2] Quantity and size
1. Product lineup : W 95mm x D 95mm x H 37mm, 165g
2. Size and weight of package : W 370mm × D 290mm × H 46mm, 2.2kg /12 cups
3. Shelflife : 7 months after production / 5 months left at the point of shipment
4. Temperature and storage : Store in room temperature. Please avoid direct sunlight and humidity.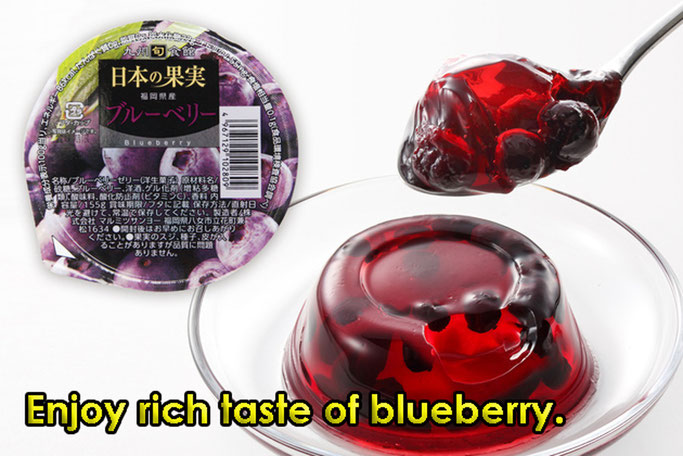 [3] Price, Payment terms, sample

1. FOB price : JPY78,000 for FOB HAKATA (JPY130/cup ×600)
Check RATES and DELIVERY DAYS (EMS by Japan Post)
* Please choose "Parcel, Weight, Fukuoka" and your country.
2. Payment terms : Cash in advance
3. Payment method : PayPal. T/T
4. MOQ : 50 boxes (600 cups), 12 cups x 5 boxes x 10 assorted
5. Maximum supply volume : 36,000 cups / day, 10million / month
6. Lead time : Shipping in 12-15 days after confirming payment
7. HS-code : 2008.080
8. Availability of free sample : Available in small volume
(EMS freight must paid by buyer)
9. Warranty : Compensation for defects caused by manufacturer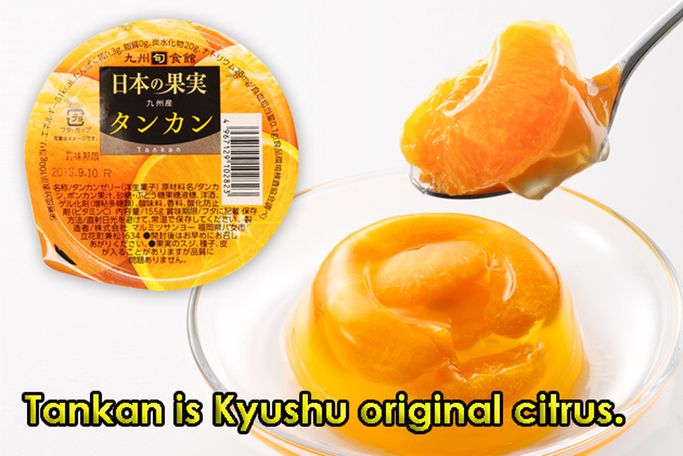 [4] Certificate and document

1. Available certificate : ISO9001
2. Available test report : Test reports of bacteria, agrochemical, heavy metal
3. Certificate of origin : Available. (PCO, Preferential Certificate of Origin under TJEPA, Thai Japan Economic Partnership Agreement is also available)
4. Product liability insurance : Available in Japan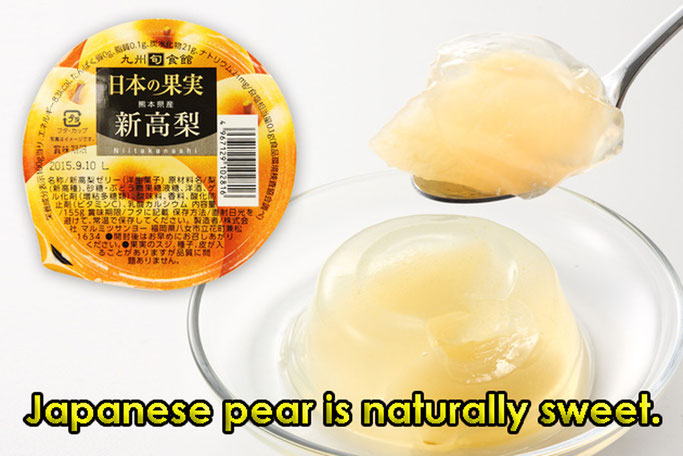 [5] Sales and testimony in Japan

1. Type of customer in Japan : Health-conscious women in their 40's  buy our jelly through online shops or Department stores.
2. Shops in Japan : Online shop, department store, supermarket all over Japan
3. Sales record : 40 million yen per 6 kinds available  /  340million yen per all kinds
4. Testimony of customer : It is entirely different from the one we get at convenience stores or supermarkets.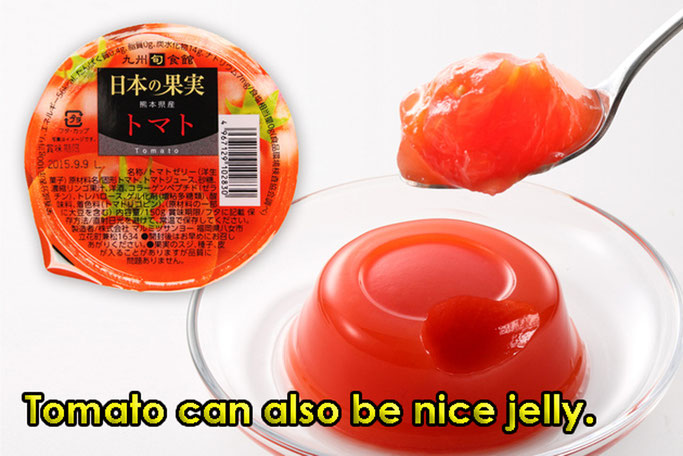 [6] How to cook and enjoy

1. How to cook, prepare : Possible to keep  in room temperature. If you put the jelly into a nice plate, it will be a gorgeous dessert.
Best when chilled. Have them frozen and try as sherbets.
2. Precaution : Avoid storing in direct sunlight.
Best when consumed immediately after opening.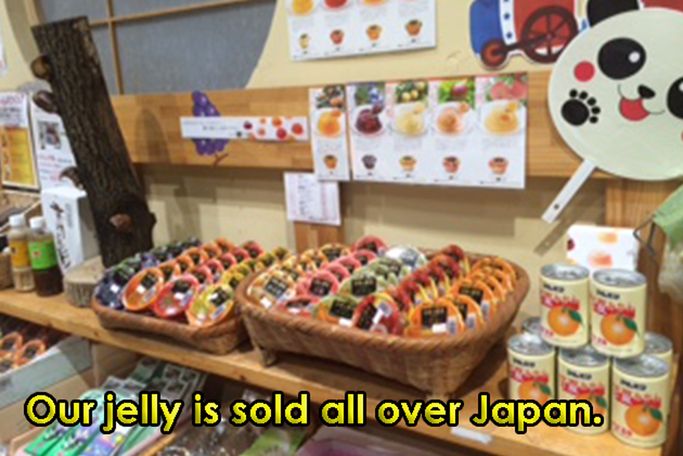 [7] Message from president

We proudly deliver delicious jellies to our customers with our commitment to best materials, smooth manufacturing and perfect quality control by our staff. We hope not only children but also adults who have the discerning palate of real desserts enjoy our jellies. And, we got ISO9001 for all product.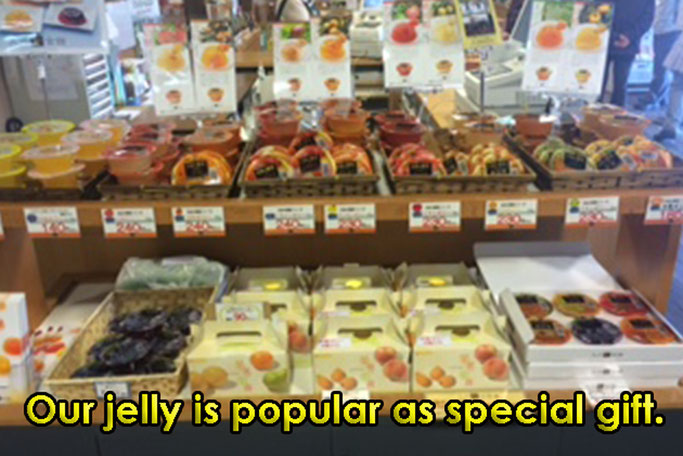 ---