Popular water saving ceramic pipe NEW KAREZ is back with cheaper price, simpler component and easier installation!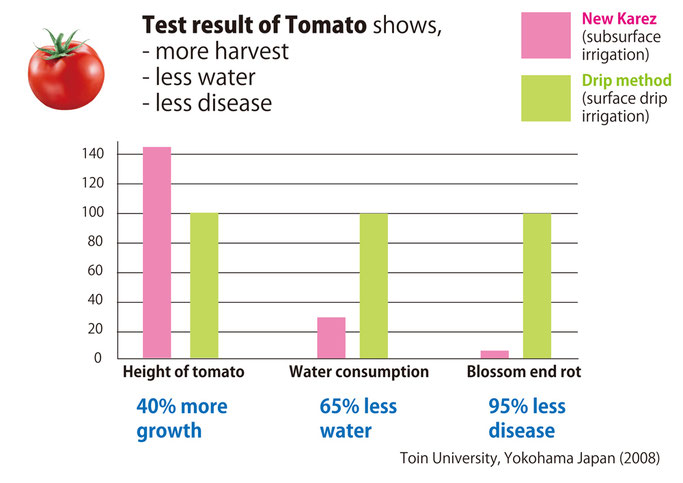 Eco friendly Water Saving Ceramic Pipe
New Karez (Vertical Type) = NKV
---
[1. Major Feature]

1. 60-70% more water can be saved compared to Surface Drip Irrigation.
2. Easy installation subsurface irrigation that works without electricity.
3. Except NKV, all the components, parts can be prepared in your country with cheap price.
4. You can keep soil surface dry, so you can reduce agrochemical (pesticide, weed remover), humidity in greenhouse, plant disease.
5. Water saving organic farming gets easier, cheaper with NKV.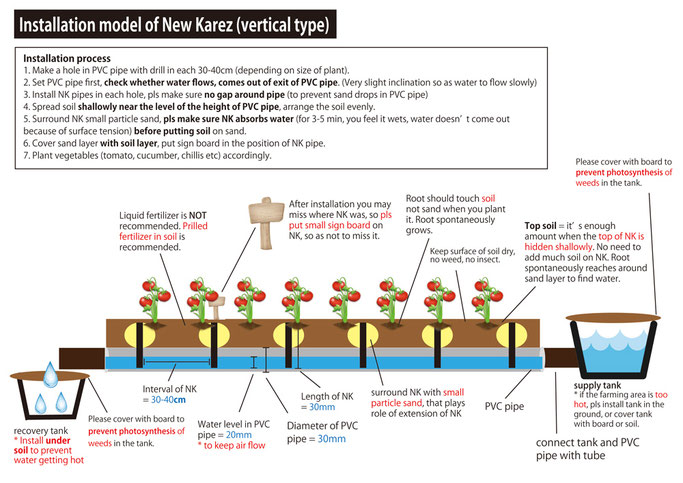 [2 What you prepare]
1. Mandate equipments in New Karez Components
* No.2-7 can be purchased in your market
1. New Karez ceramic pipe (Only pipe needs to be imported from Japan)
2. PVC tube (Diameter 30mm, Length 10m)
3. Water supply tank, Water recovery tank
4. Sunshade cover (to prevent algae) on tank
5. Tube to connect PVC tube to tank
6. Fitting band to fix PVC pipe and tank
7. Small particle sand to surround NKV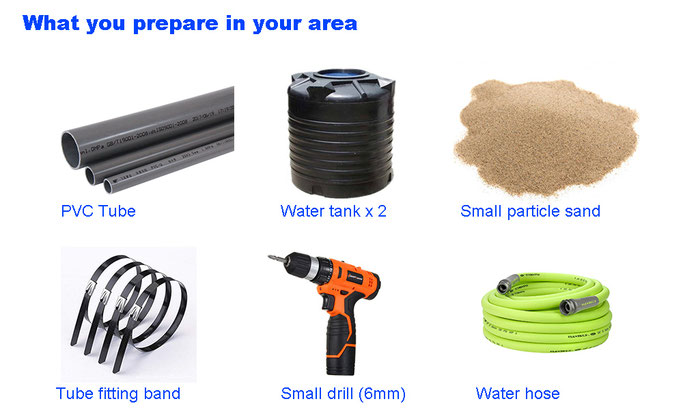 2. Advanced option in the components
1. Float sensor (for recovery tank to detect water volume)
2. Small pump to supply water from recovery tank to supply tank (if farm is small it can be done easily by farmer)
3. Battery to operate pump
4. Small solar panel to generate electricity for battery
5. Bench planter if the soil is too hard or not flat
6. Soil fertilizer (if necessary)
[3. Which plant you can use NKV]

1. Vegetable, fruits that are planted in greenhouse.
2. Root plants (ginger, turmetic etc)
3. Not good for hydroponic farming (rice, rushgrass etc)
4. Not good for tree (apple, citrus, persimmon etc)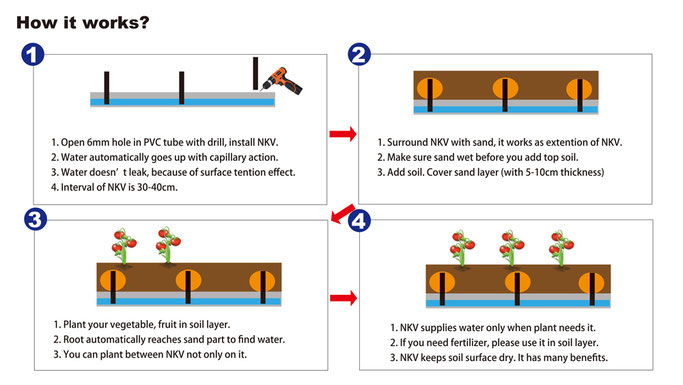 [5. Size, MOQ, FOB price, terms and conditions]
1. Size and weight : Length 60mm, Width 8mm, Weight 7.5g/pipe
2. Minimum Order Quantity (MOQ) : 20 pipes
3. HS-Code : 6909.00 (made of alumina, silica, titanium etc)
4. Container in delivery : paper carton
5. Storage : normal temperature, don't step on it
6. Payment terms : Paypal, T/T
7. Sample : Available in FOB price
* Freight must be paid by buyer
8. Maximum Supply Quantity : 20,000 pipes/month
9. Delivery : by Japan Post EMS (Up to 30kg, 3,000 pipes)
10. Lead time : shipment in 1 week after confirming payment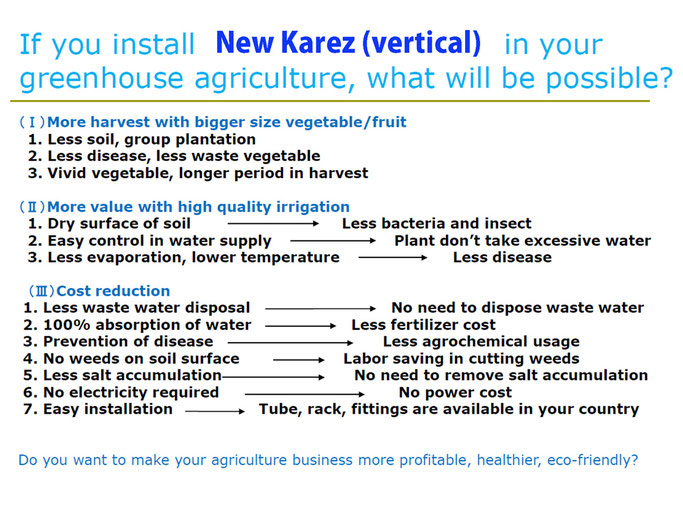 FOB Price (from Saga, EMS by air, below 3,000 pipes)
* If larger volume, FOB port of Hakata or FOB Fukuoka Airport
- Below 10,000 pipes : JPY 680/pipe
- 10,001-30,000 pipes : JPY 480/pipe
- More than 30,001 pipes : JPY 380/pipe

EMS air freight of New Karez Vertical Type
- Weight  7.5g/piece
- Cushion & carton 2.5g/pcs
- Total 10g/pcs

Weight in each quantity
100pcs : 1kg
500pcs : 5kg
1000pcs : 10kg
2000pcs : 20kg
3000pcs : 30kg

EMS air freight
* Example, Saga to Thailand
- maximum weight is 30kg in EMS
- Delivery date : 2-3 working days from Japan to Thailand

100pcs : 1kg = JPY 2,100 ($19.5) *$0.2/pcs
500pcs : 5kg = JPY 6,300 ($58.5) *$0.12/pcs
1000pcs : 10kg = JPY 10,500 ($97.5) *$0.1/pcs
2000pcs : 20kg = JPY 18,500 ($171.8) *$0.09/pcs
3000pcs : 30kg = JPY 26,500 ($246.1) *$0.08/pcs

[6. EMS RATE & delivery date in English]

* Please check rate in English before you ask quote.
https://www.post.japanpost.jp/cgi-charge/index.php?lang=_en
- Choose "Parcel"
- Choose "SAGA"
- Choose your country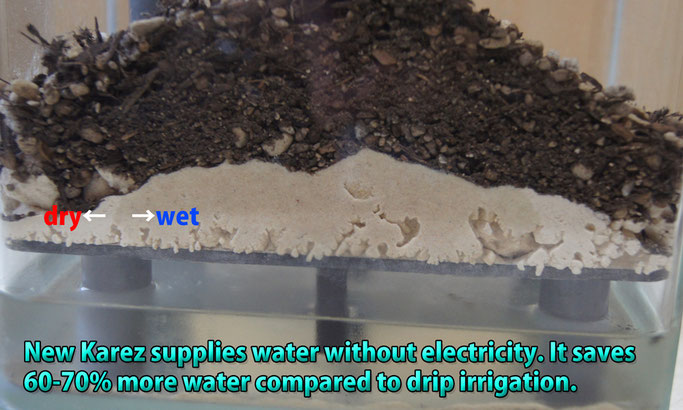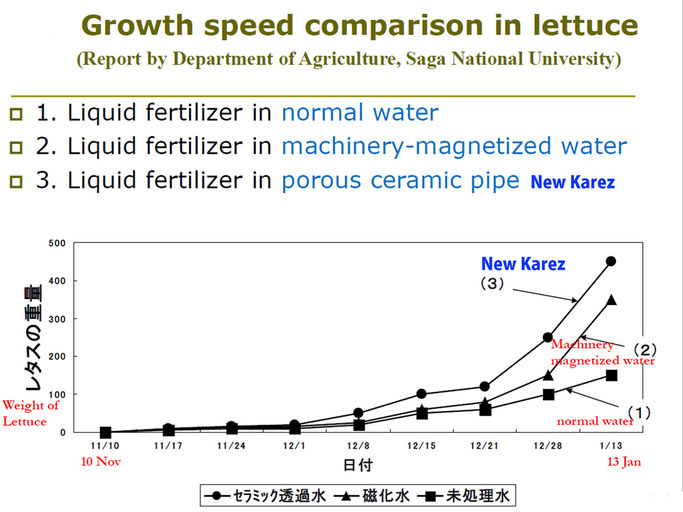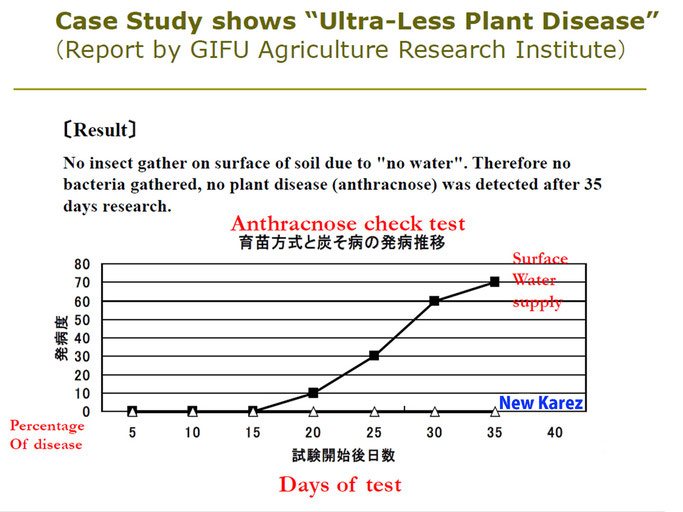 Major benefit in the irrigation by NKV
1. Enhancing quality of plant
2. Increasing harvest volume
3. Increasing size of plant
4. Reducing waste water
5. Full operation without labor
6. Cheap additional equipment and facility
7. Less soil required
8. Less plant disease due to dry soil surface
9. Increasing natural sweetness
10. Extension of harvest period
11. Easy adjustment and maintenance
12. If in greenhouse, less vapor. (keep house less humid, prevent plant disease)
13. Reducing fertilizer due to more mineral content in water
14. Less grass in soil surface, makes weeding much easier, save time in agriculture
15. Almost no salt in soil surface, cut cost in preventing corrosion
16. Almost no power required in whole operation process
17. Less cost, more value, more profit in operation, makes fruits and vegetable more competitive and profitable
18. doesn't make soil solid, makes oxygen flow smoother in soil
19. less spoil, higher yield rate in farm
20. Less harmful insects on, in soil
21. More plants in narrower space
22. Less human labor, enables farmer to concentrate on more profitable, important tasks
---
---
---
⇒Southeast Asia, South Asia, West Asia, Middle East, Africa
Authorized agent
Mr. Vivatchai Turongpun
Managing director of Thai Bae International Co., Ltd
vivatchai@tbi.co.th