Say good-bye to chemical detergent with Magpeace, safe and reusable new washing goods.
---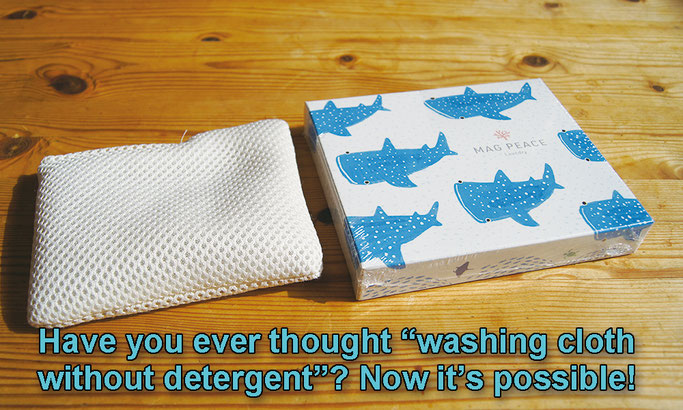 1. Product feature

Do you know how many tons of water is used and wasted in washing cloth in your house? Magnesium detergent MAGPEACE can change the world with cutting edge Japanese technology that washes cloth with the power of magnesium. Say good-bye to synthetic powder, liquid detergent to save your life and mother earth!
1. Only one bag of magnesium ball can wash your cloth 300 times. Deodorizing and removing bacteria performance is high.
2. No need to use existing detergent of powder and liquid that contaminate nature.
3. No chemical is used, completely safe for kids and natural environment. Wasted water can be used in farming right away.
4. Mold and dirt stuck on hose, drum and pipeline of washing machine are removed as you use magpeace more.
5. Change detergent, save water, save money, save cloth, save the children and earth.

2. Competitiveness of product
1. 1 bag of magpeace can wash 5kg cloth 300 times (if it's more than 5kg, please use 2 bags). If you wash cloth twice a week, magpeace lasts 3 years. You don't have to spend money for detergent regularly as you used to do.
2. Magpeace saves process of rinsing so that you can save lots of water in washing.
3. Not only effectiveness, but also cost performance is excellent. That's the main reason magpeace spreads rapidly among Japanese housewives.
4. Since magnesium is inorganic material, waste water after washing can be used in agriculture. It is completely safe for animal, plant, soil.
5. No chemical substance remains in the cloth. Magpeace prevents allergy that is caused by chemical residue on the cloth. Washing with magpeace is obviously good for baby and kids.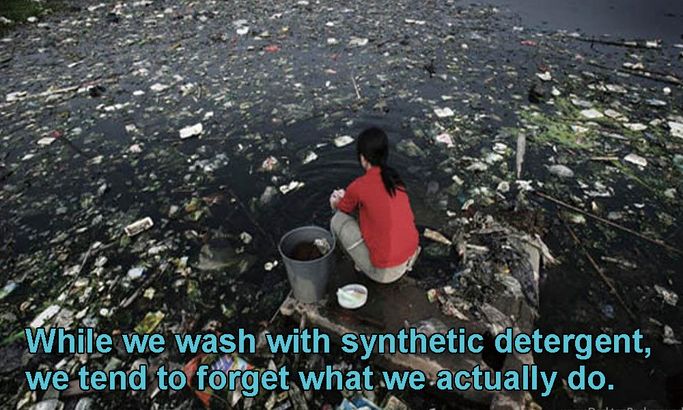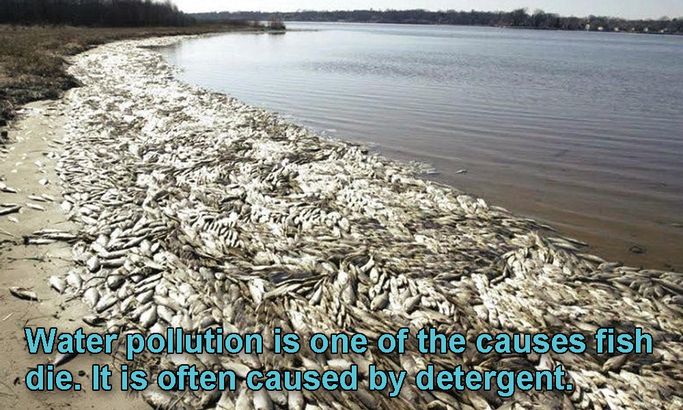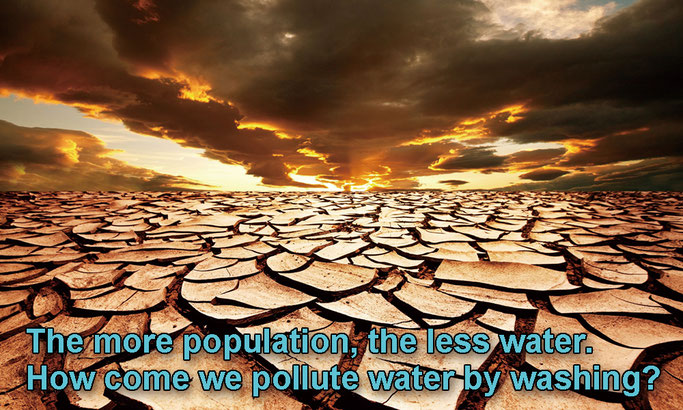 [1] Product Outline

1. Common product name : Magnesium detergent
2. Brand name : Magpeace
3. Product origin : Fukuoka, Japan
4. Raw material: Magnesium (purity 99.95%), nylon, polyester (no dioxin)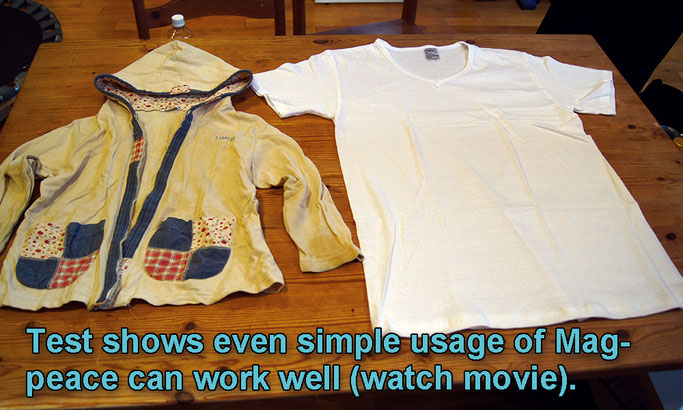 [2] Quantity and size

1. Product lineup : Magpeace bag (100g) in paper carton
2. Shellife : 300 times washing (1 bag up to 5kg cloth, 2 bags up to 10kg cloth)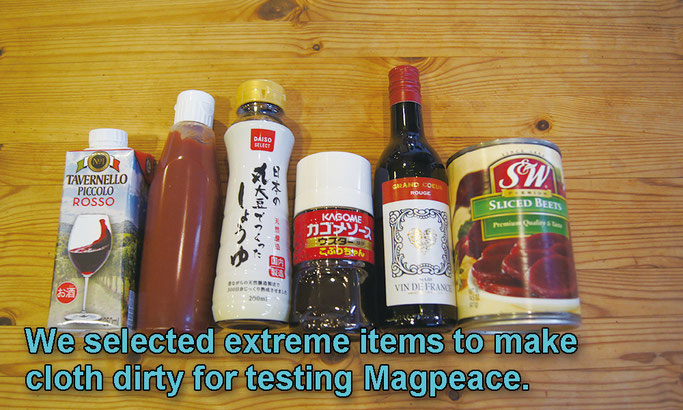 [3] Price, Payment terms, sample
1. FOB price (100g bag) * From Fukuoka airport, or the port of Hakata
1-4 bags : JPY 3,800/pcs
5-10 bags : JPY 3,600/pcs
11-30 bags : JPY 3,400/pcs
31- bags : JPY 3,200/pcs

Check RATES and DELIVERY DAYS (EMS by Japan Post)
* Please choose "Parcel, Weight, Fukuoka" and your country.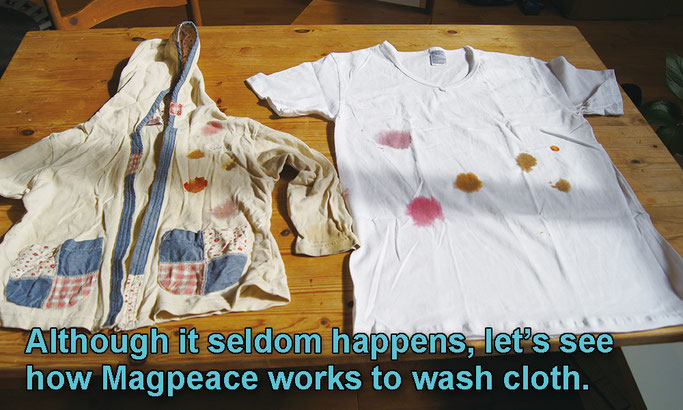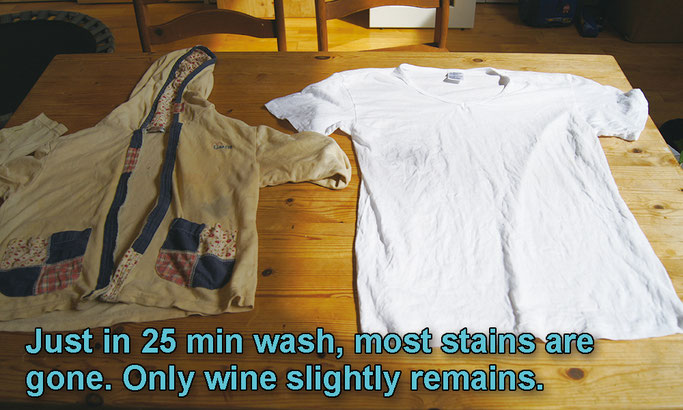 2. Payment terms : Cash in advance
3. Payment method : Paypal, T/T
4. MOQ : 5 bags
5. Maximum supply volume : 50,000 bags/month
6. Lead time : Shipping 3 days after confirming payment.
7. HS-code : 8104.11
8. Availability of sample : available in FOB price
(EMS freight is paid by buyer)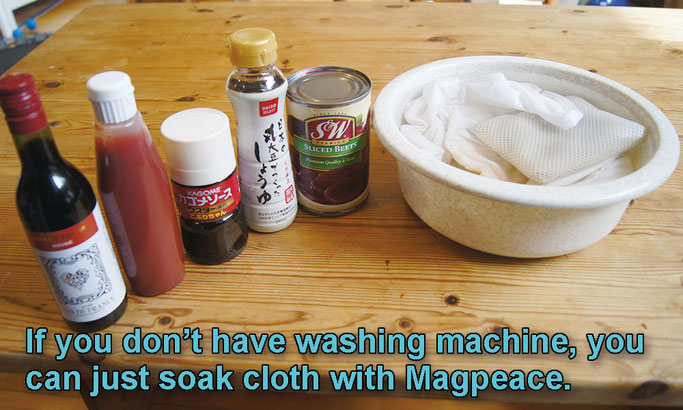 [4] Certificate and document

1. Available test report
1) MSDS, Food safety analysis report, bacteria test report, fat resolution test, washing capability test
2. Certificate of origin : Available
3. JAN code (international product registration code) : 457391750007
[5] Sales and testimony in Japan

1. Type of customer in Japan : Household, kindergarten, school, hospital, fitness gym etc
2. Shops in Japan : Eco-friendly item shop all over Japan
3. Testimony of customer

"Truly amazing! Not only saving water, cost and time, but also magpeace washed cloth safer and faster. I spread waste water in my garden and plants grow well."

"I didn't like chemical fragrance after washing because it was not natural. Therefore I started using magpeace. At first my husband asked me whether I really washed it, however cloth became clean without unnatural fragrance, I really love it!"

"I wouldn't buy only by eco-friendly image. As a housewife, I am always price conscious woman so that's the reason I started using magpeace with some doubts. It worked very well and saved water, utility cost, time to go buy detergent, time to wash!"

"Perhaps nobody won't believe such a small bag can wash cloth. I was one of them. But 3,800 yen was not so expensive so I bought one with curiosity. Oh my god… it really works! Although strong dirt is sometimes need to be washed by hand before putting in washing machine, magpeace works very well and now I like washing because I'm excited to see how my cloth will be washed next time."

"I live in remote island so water supply is always short. Saving waste water has been my concern. Magpeace made it possible with amazing idea and usability. Truly excellent could solve many problems at once, magpeace must be used around the world."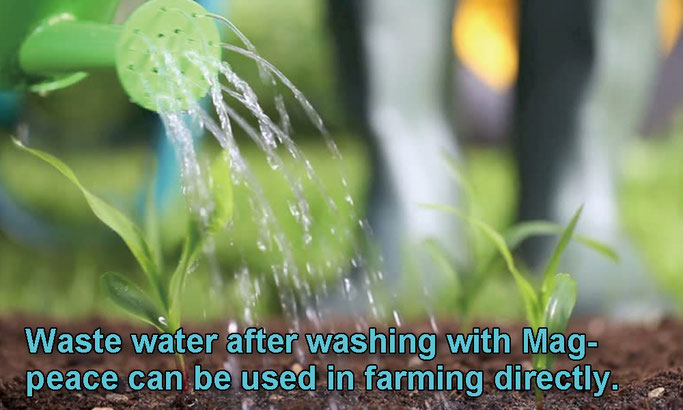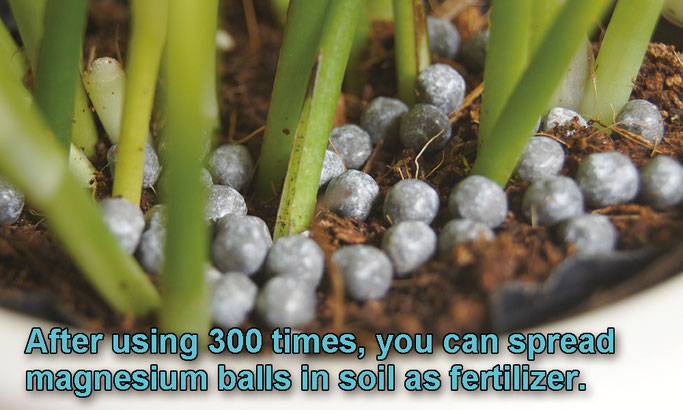 [6] Benefit and how to use
1. Benefit of product
1) Removing dirt, oil, odor, sebum, bacteria, mold of cloth.
2) Cleaning drum, hose, pipeline of washing machine.
3) Enables waste water to be used in farming right away after washing.
4) Simple and easy usage and save time to buy detergent monthly.
5) Low cost makes higher washing performance possible.
* At first you may feel that your cloth isn't washed enough because of no smell after washing. Usually good smell is from chemical fabric softener. So no smell in cloth means "your cloth is purely washed".
* If your new white shirt is bleached, the white color may be removed partly by the effect of Magpeace. When you start using please test it with your old clothes.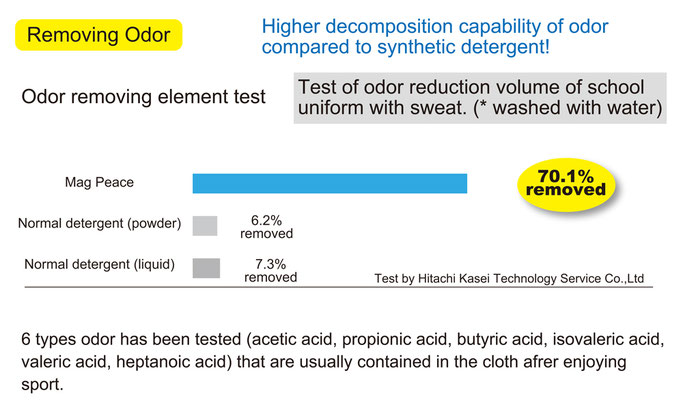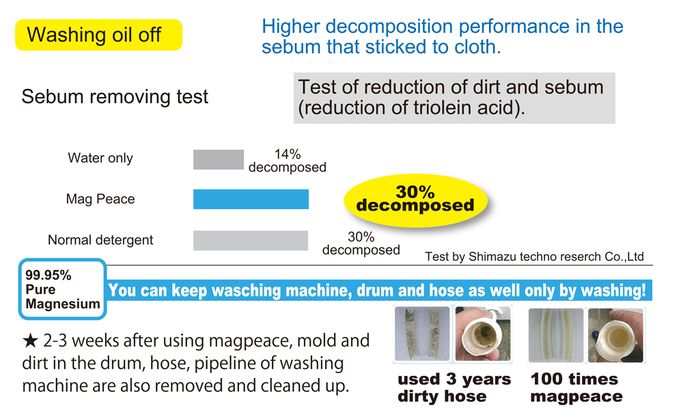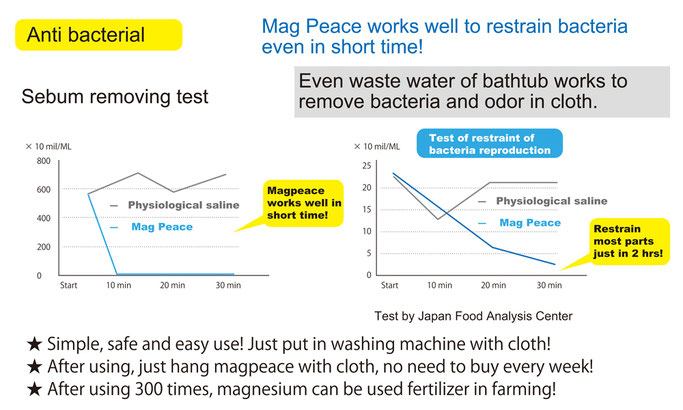 2. How to use
1) Put magpeace with cloth in washing machine.
2) Magpeace removes odor, sebum, bacteria, stain, dirt and doesn't remain fragrance.
3) Waste water from washing with magpeace can be used in gardening and farming. It is benefit especially in the area where water is in shortage.
* If you don't have washing machine, just soaking is also OK. When you soak please prewash stain first, and put magpeace with cloth in normal temperature water.
* It can be used in any types of washing machine.
* It removes dirt, mold in drum and washing machine itself. In that case the dirt removed from machine may attach your cloth. It means magpeace cleans everything that touches.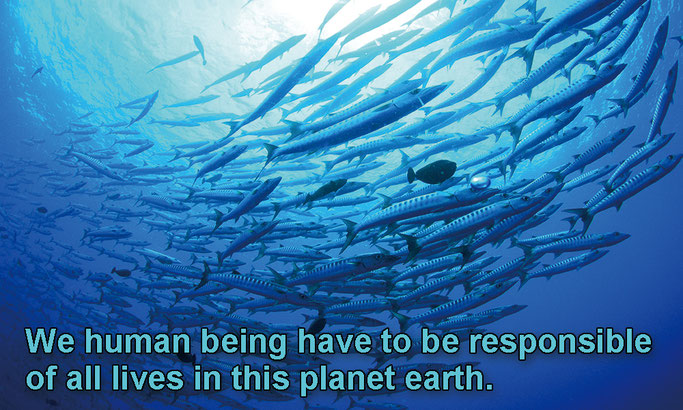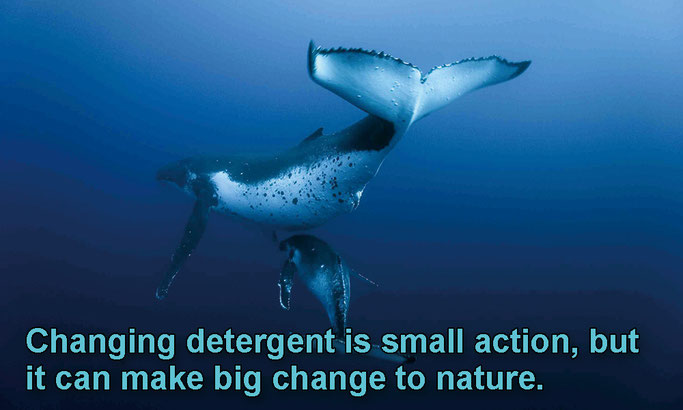 [8] FAQ
Q1. Can magpeace remove anything from cloth?
A: Yes. However some materials such as soy sauce, curry paste, vegetable oil may be hard to be removed if it remains for a few days. To wash clean, in case your cloth got dirty with such materials please wash the part immediately by water and hand before putting it into washing machine.

Q2. How do I keep magpeace after washing?
A : Please hang it with cloth. You can save time to buy detergent regularly.

Q3. How can magpeace resolve stain, oil, dirt?
A : Magpeace washes cloth with the effect of micro magnesium particle. The more often you use, the more particles resolve stain, oil and dirt. When it reaches 300 times, the effect may be lost to some extent and that is the signal to replace to new one.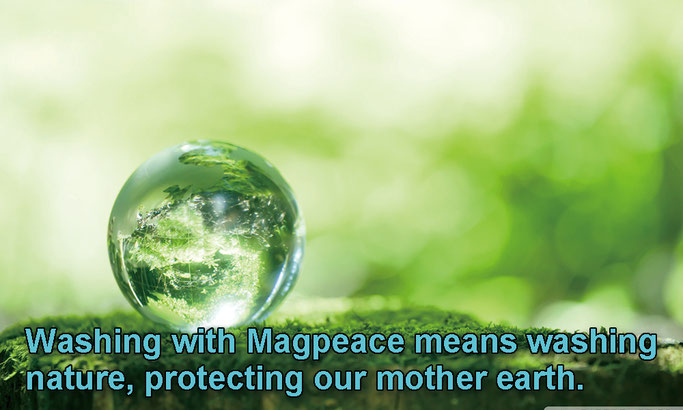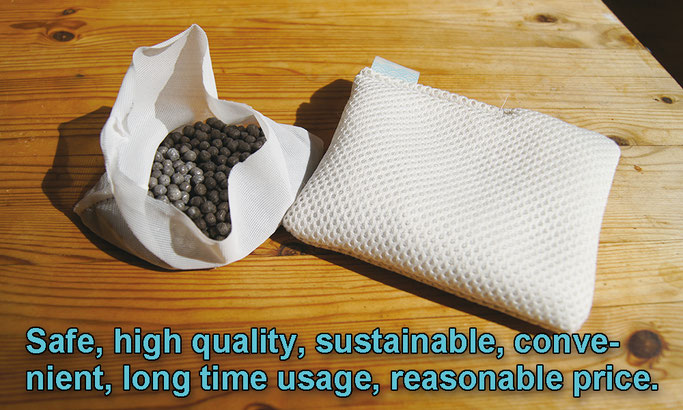 ---