Japanese technology processed Salacia into tea with preserving effective ingredient.
---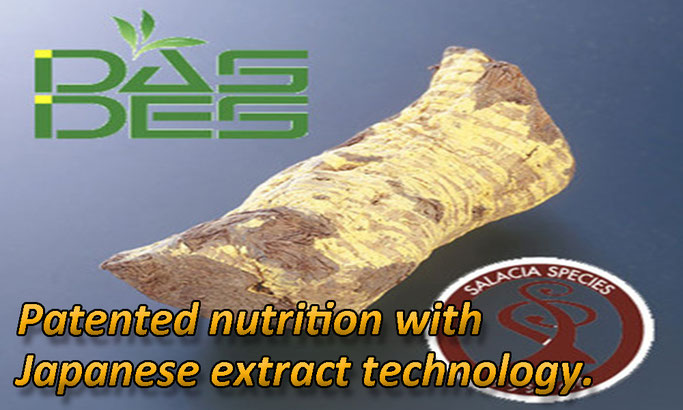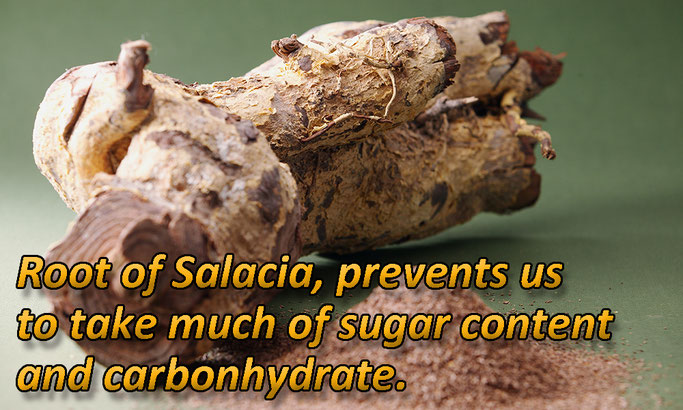 Ayurveda herbal tea meets Japanese food processing technology! Our Salacia Night Tea is produced with patented technology, you can expect benefit in digestion, easing constipation, reducing weight, reducing sugar content in blood.
[Product Feature]

1. The active ingredient in salacia, "DASDES," is patented in Japan and the United States.
(JAPAN No. 3030008, USA No. US6376682)
Patent titled "Salacia-type chemical compound having inhibitory effect on alpha-glucosidase".
2. Salacia works to prevent digestion and absorption of carbonhydrate and sugar in stomach.
3. With taking salacia, you can satisfy your appetite and you can digest what you ate well.
4. Salacia Night Tea is produced in our GMP certified factory in Japan.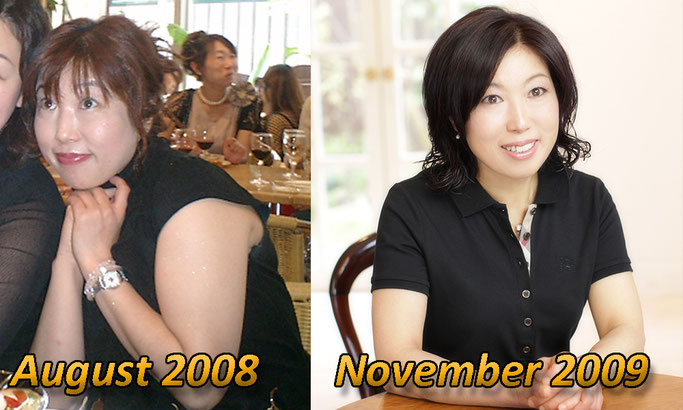 [1. Product outline]
1. Product name : Salacia Tea
Brand name : Salacia Night Tea
2. Ingredients : Powdered salacia oblonga extract, powdered roast green tea extract,
indigestible dextrin, oligosaccharide
3. How to drink : Drink with 100ml of water/hot water 10 minutes before you take night meal.
* We don't recommend you to drink Salacia Night Tea with carbonated water.
4. Date of expiry : 2 years after production
5. Size : 1g x 30 sticks in 1 carton
6. Carton size (30 sticks) : 55mm x 105mm x 115mm (Total 35g)
7. Product origin : Fukuoka, JAPAN (Salacia extract powder is produced in India)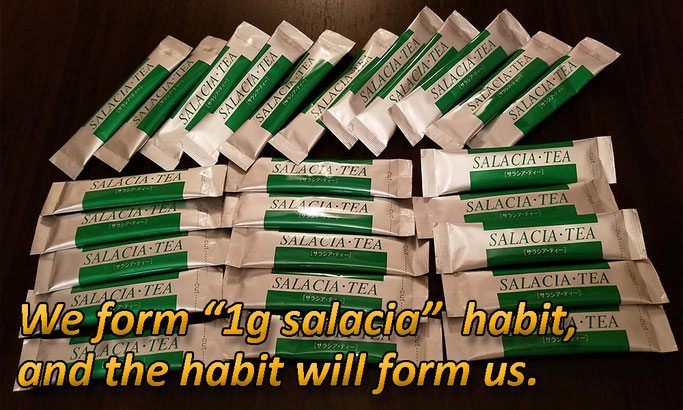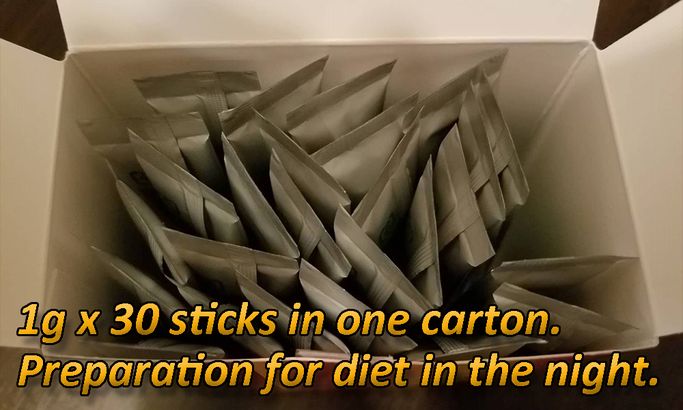 * Nutrition Fact (per 1g)
- Calories, 3.68 kcal
- Protein, 0.042 g
- Fat, 0.002g
- Ash, 0.041 g
- Carbohydrates, 0.887 g
- Sodium, 0.409 mg
[2. Terms and conditions]
 
1. FOB price : JPY 1,920/carton (1g x 30 sticks)
* EMS freight is NOT included.
* Import duty is NOT included.
* EMS freight is cheaper in larger volume.
Check RATES and DELIVERY DAYS (EMS by Japan Post)
* Please choose "Parcel, Weight, Fukuoka" and your country.
2. Minimum Order Quantity (MOQ) : 10 cartons (300 sticks)
3. HS-Code : 2101.20
4. Container in delivery : 30 sticks in 1 carton
5. Storage : normal temperature, avoid direct sunlight and humidity
6. Payment terms : Paypal, T/T remittance
7. Sample : 1 carton is free of charge
* EMS air freight must be paid by buyer.
8. Maximum Supply Quantity : 1,000 cartons/month
9. Delivery : EMS (Express Mail Service) by Japan Post
* Other delivery method is also available, please ask.
10. Lead time : Shipping can be arranged 3 days after confirming payment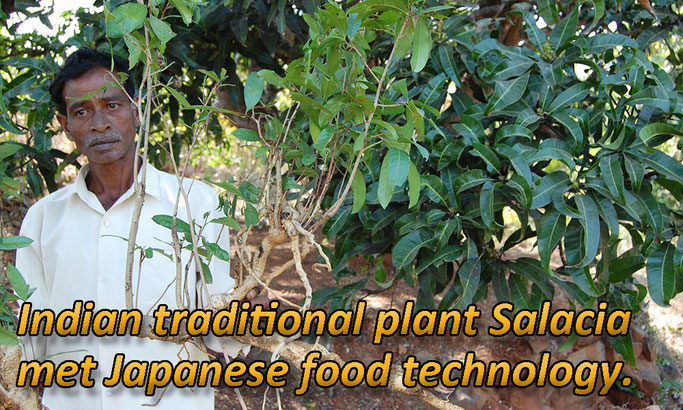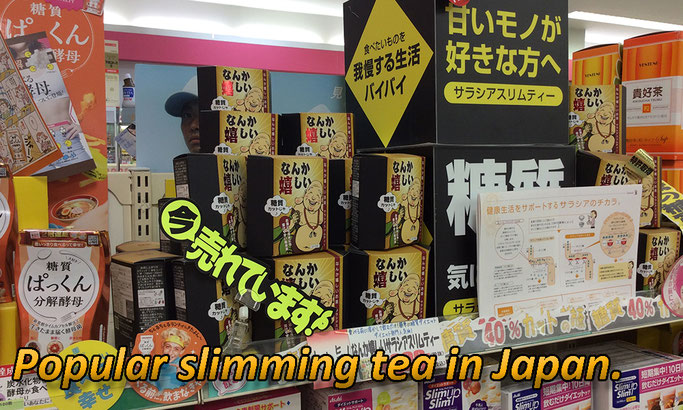 [3. Documents]

1. Certificate of Origin (COO) : available

[4. Main shop and customer in Japan]

1. Many drug stores all over Japan
2. Famous online shops in Japan

[5. Message from manufacturer]

Salacia is a climbing vine native to southern India and northern Sri Lanka with actual use in traditional Indian Ayurveda medicine for the treatment of obesity, diabetes, and high blood pressure.
In our bodies, sweets and the carbohydrates in foods like rice and bread are converted into glucose, with excess glucose becoming body fat. However, salacia blocks the action of the sugar-dissolving enzyme alpha-glucosidase and acts on the small intestine to inhibit the absorption of sugars. Inhibiting sugar absorption is the key to reducing triglyceride levels and reducing body weight.
Drinking salacia tea 30 minutes before meals reduces protein and sugar intake from food by 40%, realizing a dietary effect as a result. This product blends together roasted green tea extract with salacia extract, an extraction of salacia's active component.
Easy to drink, this instant tea has been prepared to be great tasting, always. Additionally, it also contains indigestible dextrin, a food for specialized health use already used in tea drinks, soups, and other products. This ingredient boosts salacia's suppressive effects and greatly enhances its intestinal regulatory action.
It comes as a granulated instant tea which dissolves easily in either hot or cold water. Also, the stick packaging makes it portable and convenient for easy enjoyment while traveling or out for business.
The active component present in the naturally-growing salacia plant is a patented ingredient whose effects have been proven scientifically.
Not only are the benefits clear, for food and diet safety this product uses only materials that have cleared stringent quality control measures, so consumers can make their purchase worry-free.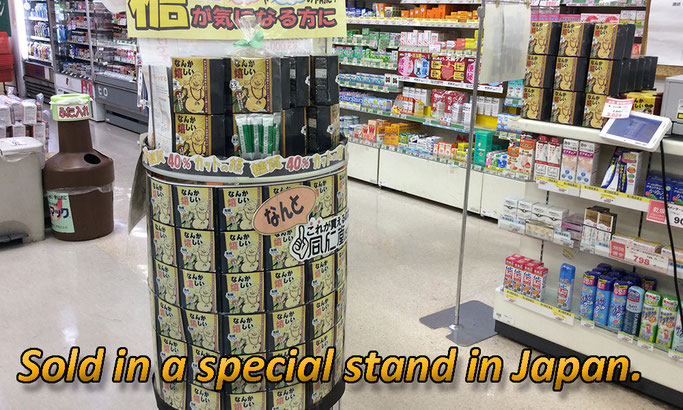 [6. FAQ]

1. Can I really lose weight?
A: Of course it depends on the condition of individual. We can't expect too much because it is not medicine. In my case I lost 11kg since I started drinking (President Ms Okabe)

2. How long does it take to expect the effect of salacia night tea?
It depends on what you are eating daily, however salacia can restraint absorption of sugar in your blood. So if you like sweets, probably you can expect the effect earlier. On the average, according to the testimony of Japanese customers, 1 month is the period they say "I might have lost weight".

3. Is there any side effect?
A: No, salacia night tea doesn't have side effects.

4. When should I take salacia night tea?
A: 10-30 minutes before you take night meal. Please drink with 100-150ml water. The flavor is Japanese roasted green tea, not bitter, not sweet. It doesn't contain caffein, so it's good for night tea.

5. About 10 days after drinking, I feel I don't lose weight like before. What happened?
A: If you feel like that, please take a cup of water before you sleep. It may enhances digestion in the next morning.

6. I feel I fart more often since I started drinking salacia tea, what happened?
A: Yes it's true. That means your bowel has been more "cultivated" with more activated enzyme by salacia tea. Perhaps the fart doesn't smell like before, please check it.

7. Is there limit to drink it per a day?
A: No, 1-3g in water is suggested amount but if you liked it, you can take more.

8. I'm pregnant, can I take salacia night tea?
A: Salacia night tea is made of 100% natural ingredients so it will be no problem. But if you worry, please take it after lactation period.

9. Can I take it with medicine?
A: Please ask doctor if salacia can be taken with your medication.

10. Is salacia night tea good for aged and kids?
A: Yes, salacia night tea is good for all ages.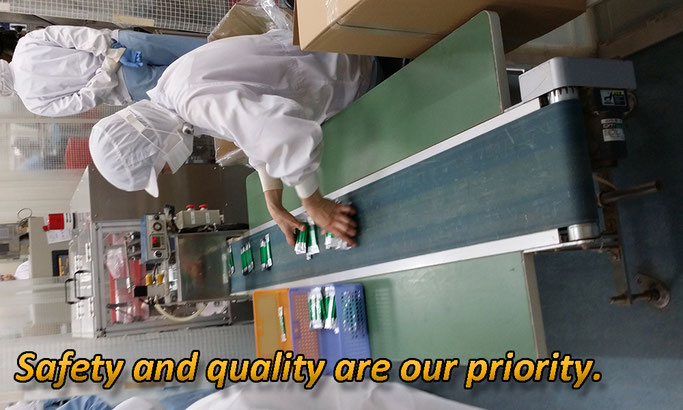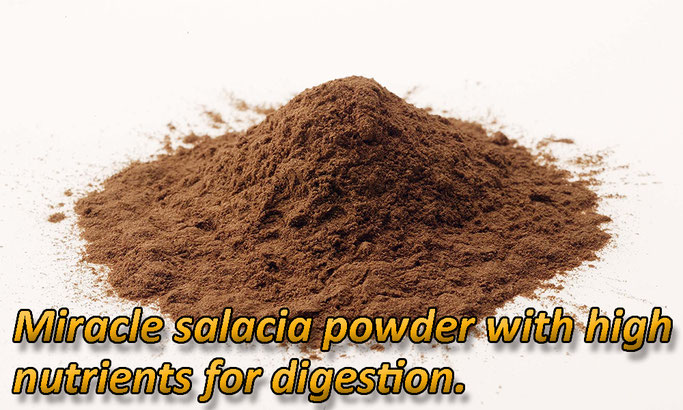 ---