Green tea and carbonic acid became unique soap, one of long selling soap in Japan.
---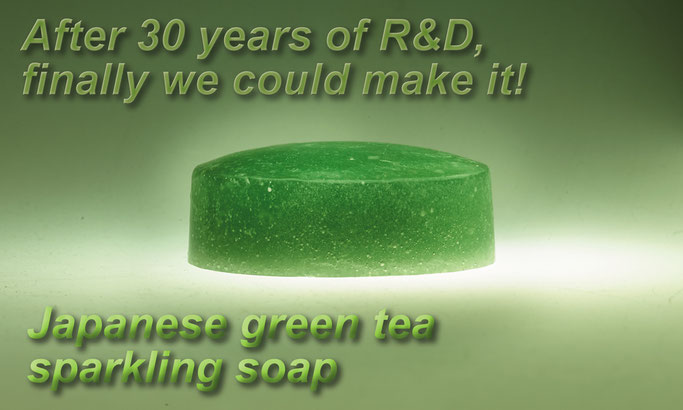 1. Product feature

After 30 years research and development, we could finally develop carbonic acid soap for beauty care! 13 natural ingredients in high technology traditional soap, non anti oxidation agent and preservatives. With the effect of premium Japanese green tea, it makes your skin whiter and softer.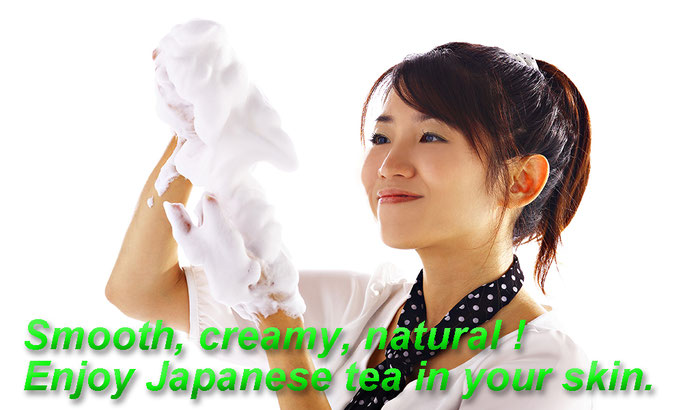 2.Competitiveness of product

1. Makes pores clearer, brighter with the power of carbonic acid
2. Anti aging smooth skin, one tone brighter skin
3. For sensitive skin, it makes your skin smooth as silk and more elastic
4. Utilized the skin cleansing effect of carbonic acid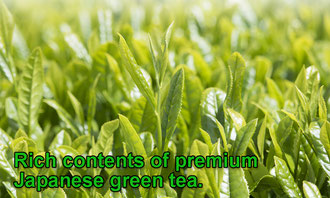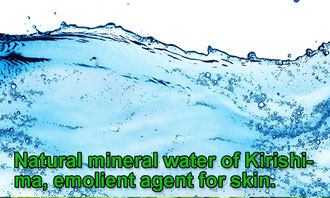 [1. Product Outline]
1. Common product name : Japanese green tea sparkling soap
2. Brand name : Uruhada Sabou Japanese Green Tea Sparlking Soap
3. Product origin : Kagoshima, Japan
4. Raw material and ingredient : Palm oil, tea, water, hydrogencarbon Na, citric acid, silica, caninabara fruit extract, hawthorn fruit extract, lavender flower extract, sea cucumber extract, oriental leaf extract, royal jelly extract, olive leaf, lime oil, leaf extract, rosemary leaf extract, sage leaf extract, bilberry leaf extract, cucumber fruit extract, bush keiga leaf extract, hyaluronic acid Na, water soluble collagen, placenta extract, grapefruit peel oil, ylang ylang oil , Rosemary oil, Novara oil, PG, BG, EDTA-2Na, ethanol, 1,2-hexanediol, caprylyl glycol, copper chlorophyllin Na, fragrance
* No mineral oil, paraben, tar color, synthetic surfactant, antioxidant
5. Production process and method : Put palm oil, stir with all ingredients, separate, compress, dry, wrap, package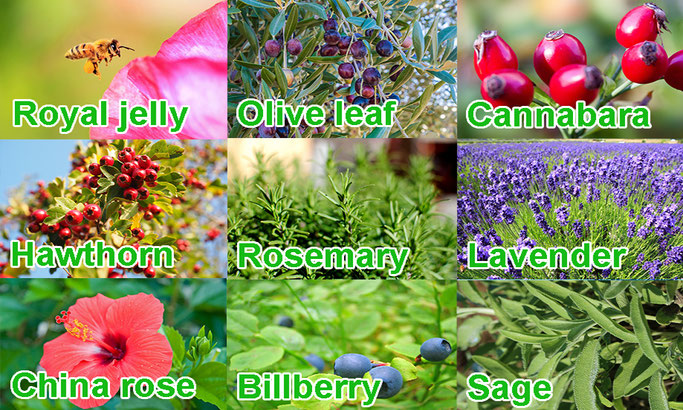 [2.Quantity and size]


1. Product line-up : 60g, 90g
2. Size and weight of package : 60g (150 x 75 x 30mm with carton 80g), 90g (74 x 70 x 33mm with carton 108g)
3. Shelflife : unboxed 3 years (using morning and night 60g : 1 month, 90g : 3 months)
4. Temperature and storage : Store in normal temperature, avoid direct sunlight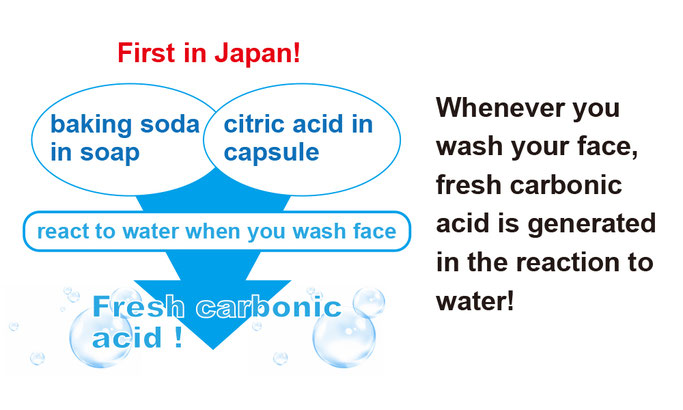 [3. Price, Payment terms, sample]
1. FOB price : 60g = JPY 780, 90g = JPY 1,080
Check RATES and DELIVERY DAYS (EMS by Japan Post)
* Please choose "Parcel, Weight, Saga" and your country.
2. Payment terms : Cash in advance
3. Payment method : Paypal, T/T
4. MOQ : 60g = 24pcs, 90g = 48pcs
5. Maximum supply volume : 5,000pcs/month, 60,000pcs/year
6. Lead time : Shipment in 1 week after confirming payment
7. HS-code : 3401
8. Availability of free sample : up to 3 x 14g small samples
(EMS freight must paid by buyer)
9. Warranty : Please check the copy of P/L insurance certificate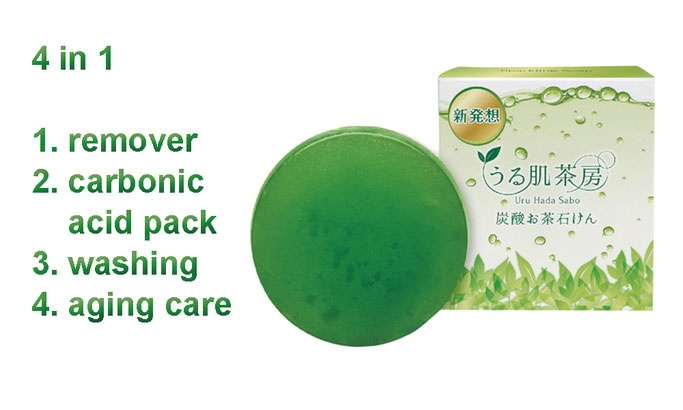 [4. Certificate and document]

1.  Available certificate : P/L (Product liability) insurance certificate
2.  Available test report and MSDS : MSDS is available
3. Certificate of origin : available
4. Product liability insurance : up to 100 million yen in Japan
5. Award : N/A
 [5. Sales in Japan]
1. Type of customer in Japan : Women in 20, 30, 40, 50, 60 years old
2. Shops in Japan : Tokyu Hands (Hakata, Shibuya, Shinjuku, Ikebukuro), Cosme Patissiere (Fukuoka), @cosme, Oga pharmacy, RKB Radio shopping, Kenko.com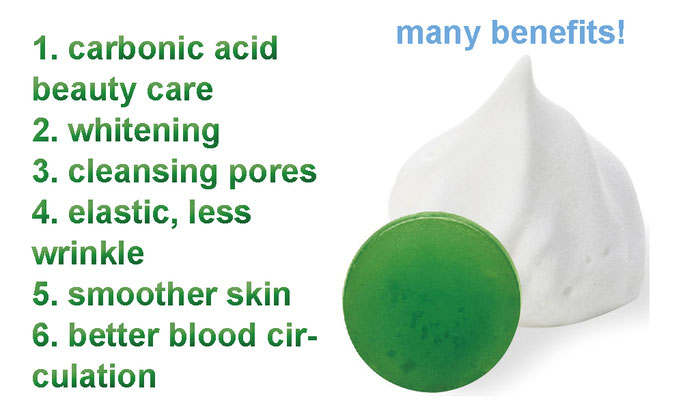 [6. Benefit for health, how to use]
1.  Benefit for health : soothing skin, make skin smooth, cleansing pores, makes skin softer with the power of carbonic acid, makes skin whiter with the power of green tea, anti aging, arrangement of skin texture

2. How to use, prepare : Use foaming net with warm water. Take air well when you foam. If your make-up is natural, just wash your face 2 times with it.

3. Caution : (For patients of atopic dermatitis) This soap contains CO2, so it sometimes causes an itch. When you try it, please try with parts where there is no atopic dermatitis.
(For baby) Please try with small amount first.
(For users of waterproof sunscreen and mascara) Please use attached remover not using our soap as cleanser.


 [7. Message from president]
We have longed to utilize the effect carbonic acid in soap for natural beauty. However it has been difficult due to generation of gas in mixing process. After 30 years trial and error, we could develop a new technology that enables us to make use of the power of carbonic acid. Our soap is made of premium green tea of Yame and pure mineral water of Kirishima, now it has been popular and famous in mass media, sold in famous shop such as Tokyu Hands, @ cosme.
---