GEF improves soil condition, increases yield rate of plants and prevents replant failure.
---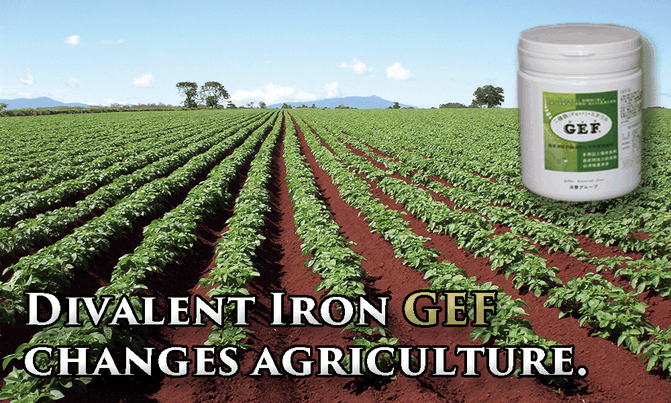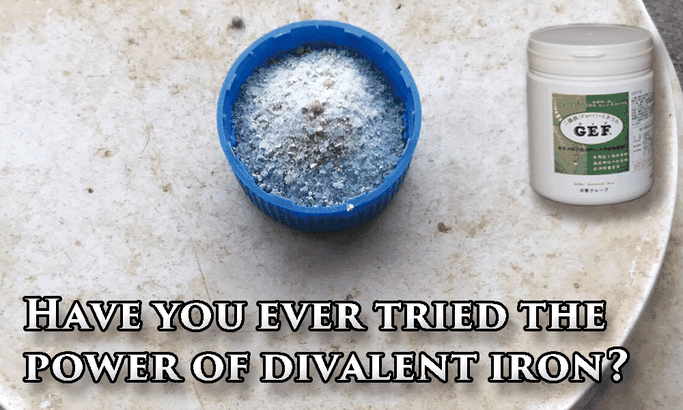 Product Feature
New solution for organic and natural farming!
More yield with less cost with GEF!
GEF is natural mineral agent made of mineral stone with our special production method.
We are facing serious destruction of our nature, however we still have not found effective measurement. Poor soil that has been damaged by agro chemical, chemical fertilizer, too much artificial agriculture method can't produce healthy plants any more. Before thinking of plant and harvest, we have to take care of good soil and build it at first of all.
GEF supplies more oxygen and indispensable microelements in soil. GEF increases and activates effective microorganism, bacteria and enzyme, and GEF reduces harmful smell gas such as hydrogen sulfate and ammonia.
GEF enhances growth of grass, plant and wood with building good soil in safe environment.
For more taste, natural fragrance, natural vivid color of your vegetable, fruits, leaf and flower.
We have to take a look at the natural process how microorganism resolves organic compound in soil and we have to learn from them. Our aim is rebuilding of soil and make better environment of agriculture for vivid natural healthy plants.
"We have to protect natural eco cycle", GEF was developed in this concept.

Competitiveness of product

1. 1kg for 1 year in 10a farm, less amount in the next year, highly efficient soil exchanger.
2. 350-500g usage in 1 ton compost will become high quality soil in your farm.
3. Multiple usage in agriculture, stock bleeding, fishery, safe product without any harml.
4. Useful in prevention of replant failure, to increase yield rate in your farm.
5. GEF can be used in any types of irrigation system such as sprinkler, drip, subsurface.
6. Although GEF is not a food, even if it's eaten, it is safe (but please don't eat).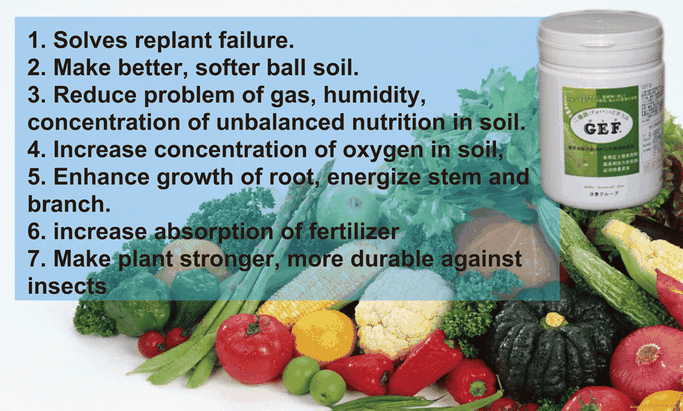 [1. Product outline]

1. Product name : Divalent iron soil exchanger
Brand name : GEF (Green Economy Farm)
2. Raw material : Divalent iron powder
3. Usage : Soil exchanger, deodorizer, oxygen and mineral supply in green house farming, ground farming, hydroponics, crop, grass, house gardening, fishery
4. Date of expiry (product lifespan) :
5. Bottle (size, quantity, weight) :
- Diameter :
- Height :
- Weight :
- Weight including bottle:
6. Product origin : Nagano, Japan
7. HS code : 3105.2000
8. Product history : 25 years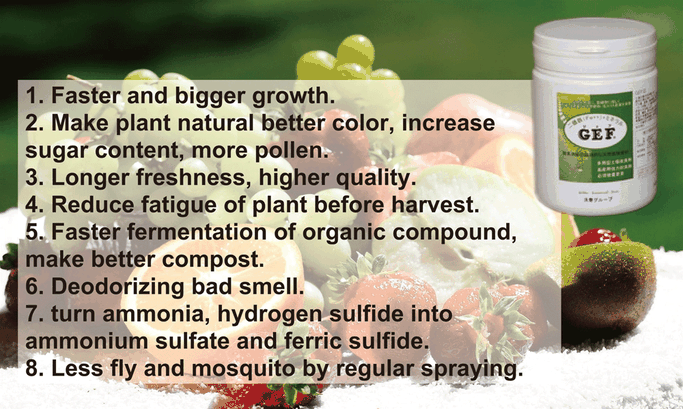 [2. Purpose of use]

1. Soil exchanger (GEF turns poor soil into fertile soil)
- Supply lacked oxygen in soil
- Enhance growth of root
- Energize stem of plant
- Enhance photosynthesis
- Supply mineral and indispensable microelement (minor element)
- Reduce damage in soil, balancing nutrition concentration of soil
- Remove of toxic, harmful gas in soil
- Make soil soft bowl, enhance air flow under soil

2. Soil protector (Prevention of replant failure in soil)
- Solve replant failure, make better, softer ball soil
- Reduce problem of gas, humidity, concentration of unbalanced nutrition in soil
- Increase concentration of oxygen in soil, enhance growth of root, energize stem and branch
- Increase absorption of fertilizer
- Make plant stronger, more durable against harmful insects
- Faster and bigger growth, make plant natural better color, increase sugar content, more pollen
- Longer freshness, higher quality, reduce fatigue of plant before harvest (due to heavy weight of fruits)
- Faster fermentation of organic compound, make better compost, deodorizing bad smell
- Turn ammonia, hydrogen sulfide into ammonium sulfate and ferric sulfide (ferrous sulfide)
- Less fly and mosquito by regular spraying

3. Enzyme enhancer (activator)
- Effective microorganism in the divalent iron (Fe++) activates enzyme in soil

4. Water purifier and deodorizer (compost, animal waste)
- Purify sink waste mad
- High power exchange of ion
- Production of high quality organic compost
- Enhance fermentation of organic compound
- High power deodorizer of animal waste
- Purify air and water of animal farm
- Prevent, reduce insects
* More synergy effects between divalent iron between and nature, try and see it in your farm.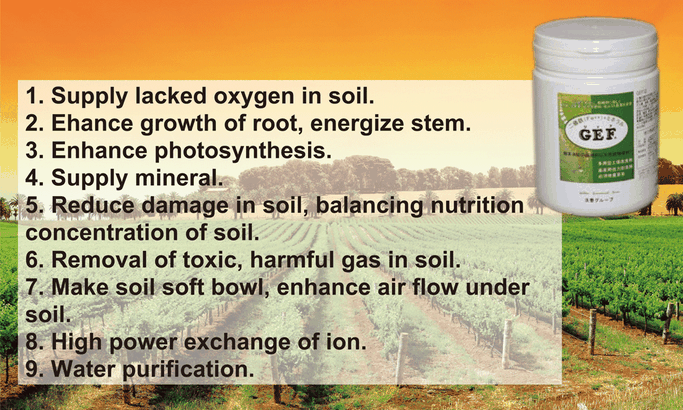 [3. Effects of GEF, - how it works - ]

Mechanism of soil exchanging and deodorizing by GEF
1. Soil exchange
- Organic matter (feces and urine) is food for bacteria. The more we put it into soil, the more effects we can expect -
- Oxidation and deoxidization (supply oxygen in soil)
→ (divalent iron + oxygen) → oxygen to root → energize root → enhance growth of root
→ resolve harmful gas in soil
→ supply oxygen to aerobe, bacteria, microorganism, enzyme
⇒ more effective elements
⇒ enhance resolution of organic compound, make soil soft ball, activate enzyme
⇒⇒⇒ activate self purification process
Reduce problem of concentration (density)
Reduce alkali (base)
Reduce nitrate nitrogen
* In the deodorizing process, we can remove gas as well.
* GEF can solve the problem of unbalanced concentration, too much nitrate nitrogen.
* If your soil is salty, iron and manganese in GEF reacts to it, it will become ferric chloride and manganese chloride. Therefore it will be easier, faster to disappear from your soil.

2. Deodorize
- Ion exchange or reaction
→ Chemical, physical reaction in ammonia, ammonium sulfate, amino acid
- deodorizing feces and urine
- faster resolution of compost
- supply oxygen
- removal of harmful gas
→ better environment of stock bleeding farm house
healthy animal
⇒ hydrogen sulfide → GEF turns it into "effective ferric sulfide+water" through chemical reaction
⇒ supply more oxygen through high power ion exchange process. GEF enhances growth of aerobe, bacteria, micro organism.

3. Microelement (minor element)
- Indispensable microelement (natural mineral material)
⇒ supply mineral to balance plants and microorganism
* All necessary indispensable microelements for plants are contained in GEF in mineral form.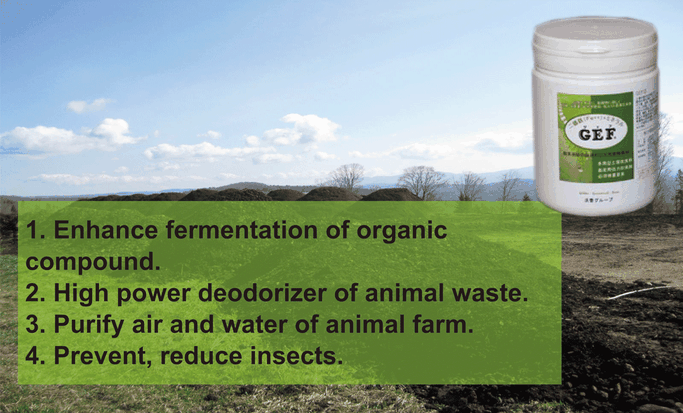 [4. How to use]

* For more effects, please use GEF before or after rain.
<The amount of usage depends on various conditions in your farm. Following suggestion is standard amount from our clients and case studies in Japan>

1. Hydroponics, crop, garden farming (green house or ground farming), house gardening, grass, small garden, bonsai
* Recommended amount in 10a field
* From left to right : Purpose, amount, how to use

- Building seedling bed : 350-500g/ton of soil, mix well in whole soil.
- Before planting soil in raising seedling pot : 5-10g (if pot is 30cm x 60cm) (if pot is 10cm, 5-10g for 18 pots * 3x6=18 pots).
* Please mix GEF powder in water before using. GEF can be used with drip irrigation, subsurface irrigation as well.
- Soil building
* Original soil : 1-10kg (if the field is under replant failure, please add a little bit more). Spread GEF powder all over your field, and cultivate (mix) soil evenly.
* Added soil : 1-2kg/every 20-30 days. Mix GEF powder in water as liquid fertilizer. Supply GEF activated water through irrigation pipe to make it penetrate well, deeper.
If your farm is not greenhouse, please spread GEF activated water between ridge before raining or supplying water.
- Hydroponics : 3-5kg, spray GEF activated water before ploughing and irrigating the fields. It's good to remove gas.
- In case harmful gas is generated in your field : 3-5kg, mix GEF well with water and supply through pipe or spray
- When root is rotten : 3-5kg all over field
- Orchard of fruits : 5-10kg in replanting season such as autumn, spring, or proper replanting period of your plant
- Grass (golf course, sport field) : 1-2kg, spray after mixing with water 2-3 times a year
- Gardening : 3-5kg, spray after mixing with water when replanting period of your plant, or when plants look weak
- Bonsai : thin GEF 3000 times concentration in water, spray it near root.
* If you want to energize stem, branch, leaf, please thin GEF 50,000 times concentration in water. Please test in small part first.

2. Stock bleeding (deodorizer, develop good compost)
- Deodorizing farm house : 100g, After thinning in 200 liter water, spray to the source of bad smell 300-1500ml per 9 square meter.
- Deodorizing feces and urine : 100g, mix ith 200 liter of water and spray per 1000kg of feces or 1000 liter of urine.
- Deoxidization of soil : 100g, mix with 200 liter water and spray per 1000kg of used soil
- make better compost : 350-500g in 200 liter water. Spray it with mixing compost.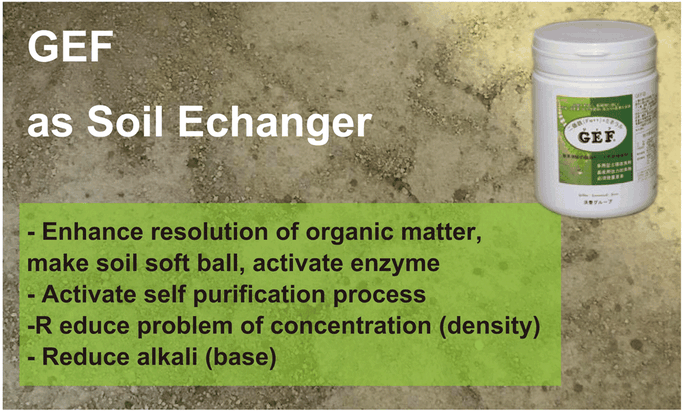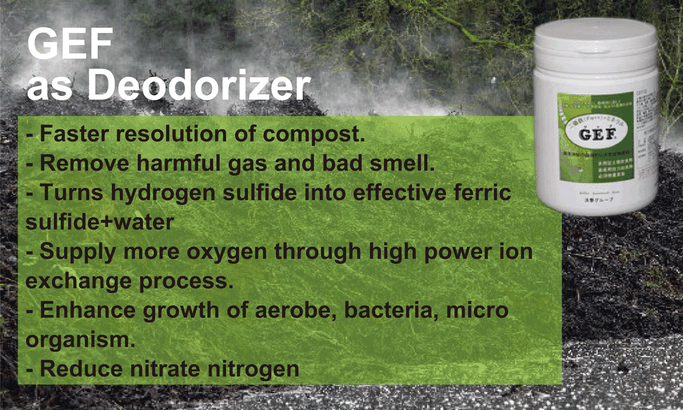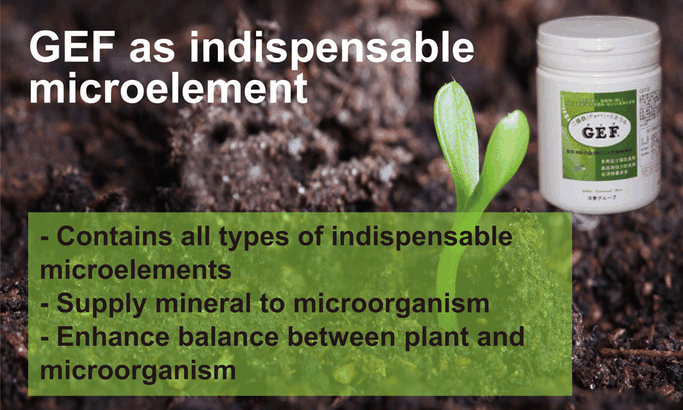 [5. Result and case study in Japan]
- this content is in progress of collecting information, soon to be updated.
[6. Terms and conditions]

1. FOB price : JPY 5,400/1 kg bottle
* EMS freight is NOT included.
* Import duty is not included.
2. Check RATES and DELIVERY DAYS (EMS by Japan Post)
* Please choose "Parcel, Weight, Nagano" and your country.
3. Minimum Order Quantity (MOQ) : 1 kg
4. Container in delivery : Plastic bottle
5. Storage : Store in cool, dry place. Avoid direct sunlight.
6. Payment terms : Paypal, Western Union, T/T
7. Sample : 100g for free of charge/buyer
* Freight must be paid by buyer
8. Maximum Supply Quantity : /month, /year
9. Delivery : by Japan Post EMS (Express Mail Service)
10. Lead time : shipment in 3 days after confirming payment
[7. Documents]

1. Certificate of Origin (COO) : available
[8. Precaution]

* This part is in progress of collection information from Japanese farmers.
[9. Message from President]

We challenge natural environment protecting agriculture Say NO! to soil sanitation, agro chemical, chemical fertilizer, too much profit oriented agriculture.
The basic of building good soil is to supply organic material, oxygen and supplement of lost indispensable microelement (minor element). If you are facing environmental problems in your farm or field, why not we build new partnership to make sustainable agriculture and stock bleeding business without worrying problem of soil? GEF supports you.
---