Made of special fiber that makes you look slim and stylish, very comfortable to wear.
---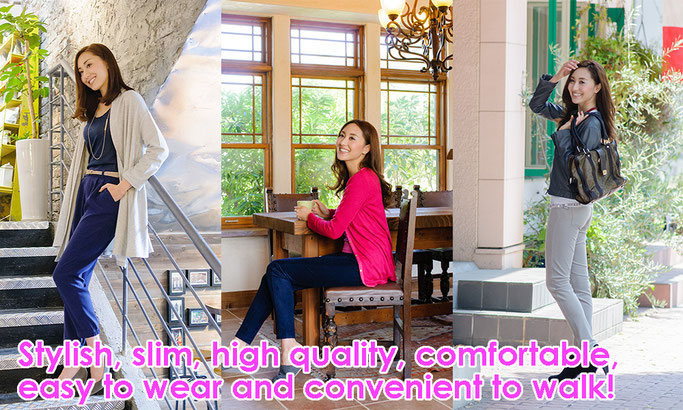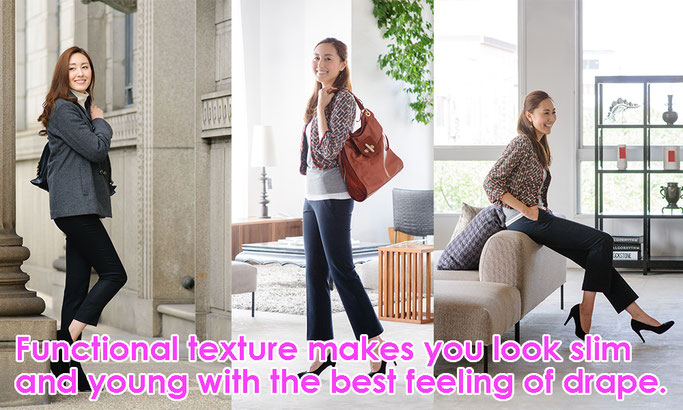 1. Product feature

1. <Fashionable> Comfortable like wearing the breeze, sophisticated feeling of drape to show the silhouette of your leg beautifully.

2. <Form and fitting feeling> Casual yet stylish. The gathering part arranges hip line beautifully. You don't feel tired of wearing long hours.

3. <Washing and maintenance> Almost no wrinkle and convenient for travelling. High air permeability makes it dry fast after washing. You don't need to press it with iron.

4. <Comfortable> Four parts of rubber string in the waist are sewed to prevent turning.

5. <Long selling in Japan> More than 200,000 pants have been sold in 3 years in Japan through very famous TV shopping channel and fashion magazine. Women from wide generation like RaQuna Style and keep buying it.

2. Competitiveness of product

1. <Special machine> Major fiber manufacturer Teijin Frontier developed a special machine to produce the texture of RaQuna Style. The texture is 100% made in Japan.

2. <Raw Material> More than 1000 times to twist yarn, it's far beyond the average of normal casual wear. The twisting makes yarn strong, light, beautiful and comfortable. Because of our original sewing method, it's so thin yet less transparent.

3. <Feelings of drape> We could be succeeded in developing specially designed pattern paper. Because of this patterning you won't feel RaQuna Style to adhere with sweat. RaQuna Style doesn't follow the part you don't want to show because the natural looks and feeling of drape is really superb.

4. <Quality Control> Original raw material texture is fulled before being processed in the cutting machine to produce beautiful, precise cloth. The size and quality are highly precise because of vacuum cutting method.

5. <Quality Inspection> Needle detection is strictly operated in each production line and we check all items on our own by hands and eyes. After production and before being dispatched, we inspect all items again with our special machine that can detect even 0.8mm metal objects.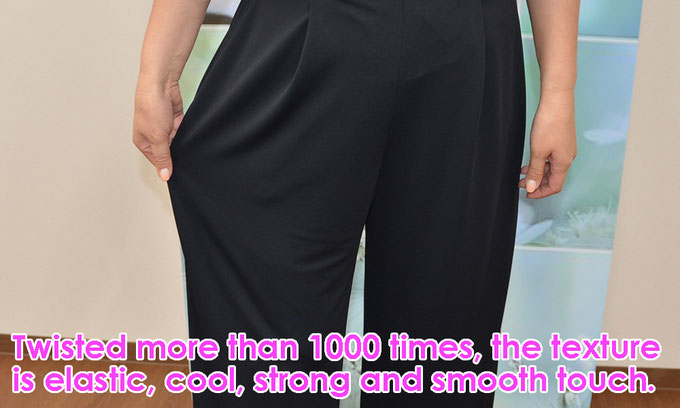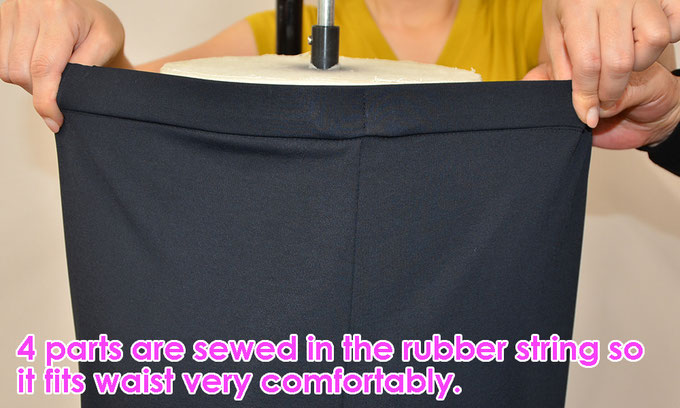 [1] Product Outline
1. Common product name : Ladies pants (made of functional raw material)
2. Brand name : RaQuna Style
- Wide 01
- Tapered 02
3. Product origin : Hiroshima, Japan
4. Raw material : Polyester 95%, Polyurethane 5%
5. Production method and process :
1) Production of the texture in Teijin Frontier
2) Transportation of the texture to Hiroshima
3) Fulling with special machine (with heat, vibration)
4) Cutting in vacuum machine
5) Sewing (partly by machine and hands)
6) Quality inspection
7) Shipping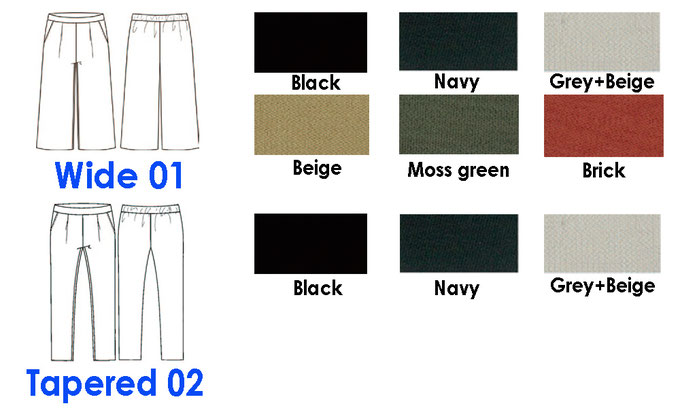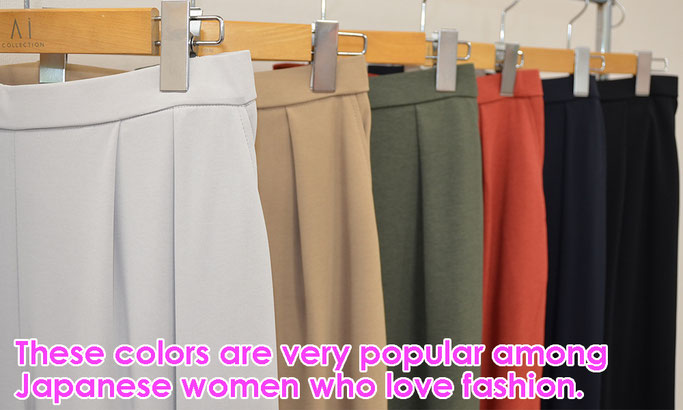 [2] Quantity and size
1. Product lineup
A) Wide 01
B) Tapered 02
2. Available color and size
A) Wide 01
Color : Black, navy, grey+beige, beige, moss green, brick
Size : S, M, L, LL, 3L
B) Tapered 02
Color : Black, navy, grey+beige
Size : S, M, L, LL, 3L
3. Raw material in each product
Same raw materials in Wide 01 and Tapered 02.
Polyester 95%, Polyurethane 5%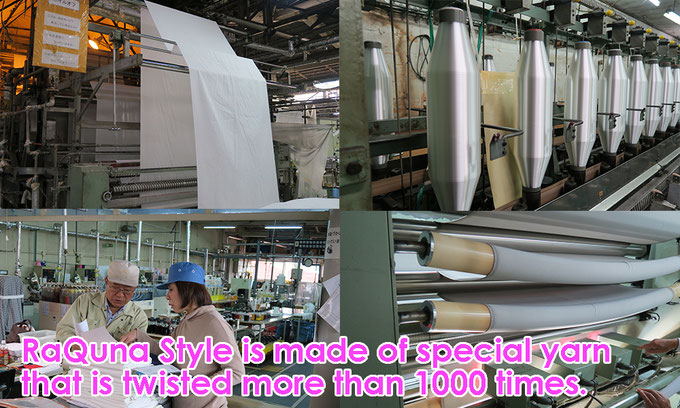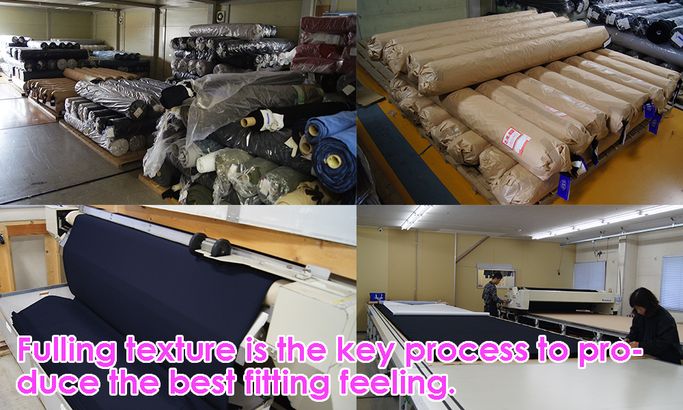 [3] Price, Payment terms, sample
1. FOB price
- Wide 01 : JPY 3,900
- Tapered 02 : JPY 3,800
Check RATES and DELIVERY DAYS (EMS by Japan Post)
* Please choose "Parcel, Weight, Kagoshima" and your country.
2. Payment terms : Cash in advance
3. Payment method : Paypal, T/T
4. MOQ : 1 carton (30 pieces * mix of several sizes and color)
5. Maximum supply volume
- 300-3,000/month (depends on size and color)
- 3,600-36,000/year (depends on size and color)
6. Lead time : 45-90 days (depends on stock)
7. HS-code : 6104.63
8. Availability of free sample
- Texture swatch + 1 type of sample : Free sample up to 2 types
* You can't choose the color of the sample
* Please choose the size of your favorite sample.
* Please pay EMS air freight for the sample.
Rate and delivery days by EMS (Express Mail Service) of Japan Post
● Please select "Parcel", "Hiroshima", "1000g" (including carton)
9. Warranty : Available. Please ask the detail in following contact form.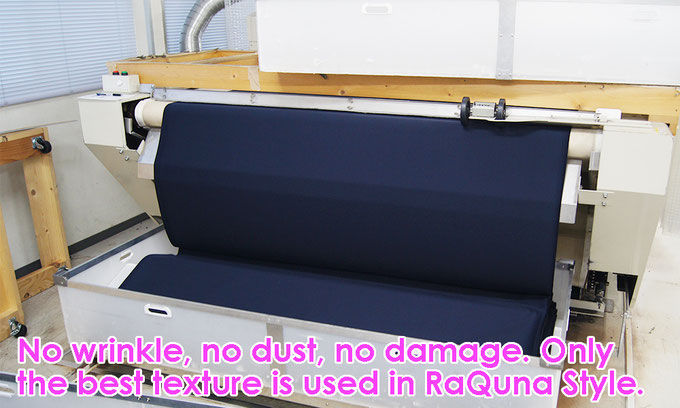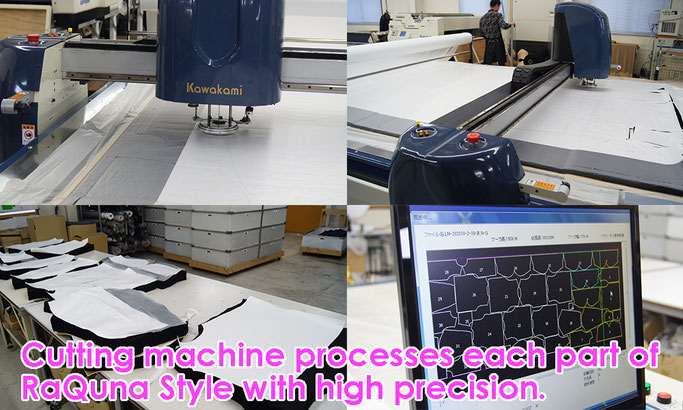 [4] Certificate, document and award
1. Available certificate : J-Quality certified company (high quality Japanese products)
● "Wear the breeze (Kaze wo Yoso-ou)" is officially registered trade mark in Japan (Japan Patent Agency)

2. Publication record in fashion magazine
<TV shopping channel>
"Shop Channel" (by Jupiter, most popular shopping channel for women in Japan)
<Fashion Magazine *Catalogue magizine>
Tsuuhan Seikatsu (Online shopping life), Nisseikyo (Lifestyle item supply association), FELISSIMO (famous apparel catalogue)

3. Certificate of origin : Available

4. Product liability insurance : Available in Japan, not available in overseas (please ask if necessary)

5. Award
- VIP171039 : awarded by Corporate Value Evaluation Association (in the excellency of management and originality of products)
- Excellent Quality Award : by FELISSIMO, Onishi Iryo Co.,Ltd (Excellency in quality, sewing, delivery, management in production line)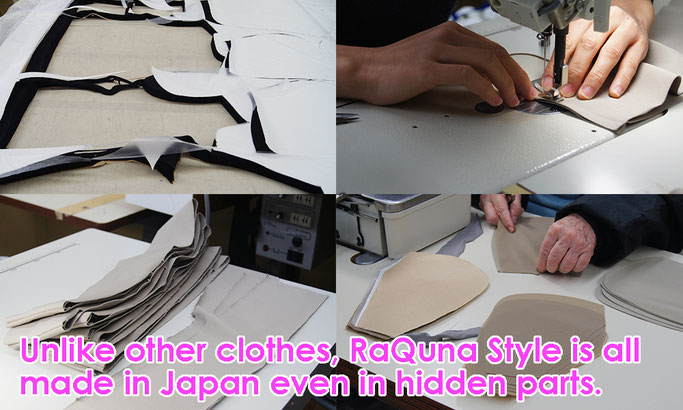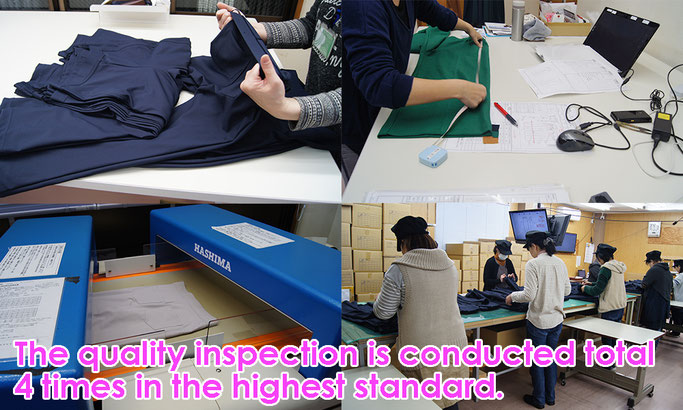 [5] Sales and shops in Japan
 
1. Types of customer in Japan
- 30's : 40%
- 40's : 30%
- 50's : 20%
- 20's & 60's : 10%
2. Shops in Japan : Mitsukoshi Isetan, Keio (Most known, premium shopping outlet in Japan)
3. Sales record : Sold 200,000 in recent 3 years.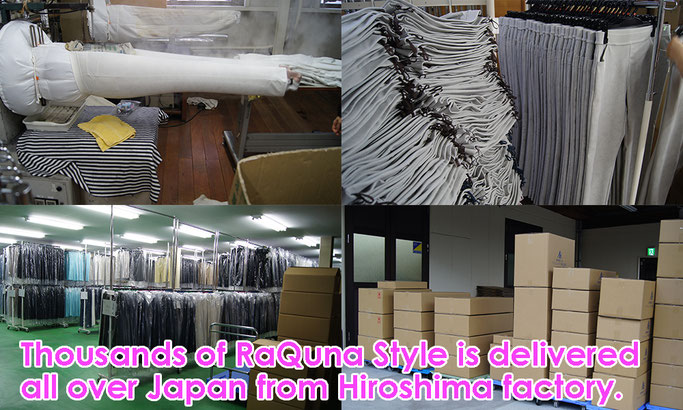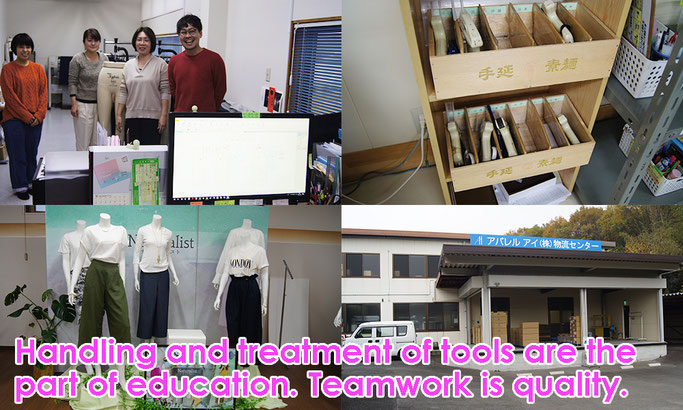 [6] Benefits

1. Benefits from the testimony of customers
No.1 RaQuna Style makes me look good shape
- The design and shape is made by measuring real human body not mannequin doll so every detail part is precise and fits naturally.
- The best feeling of drape makes my shilouette look slim and stylish.
- RaQuna Style doesn't follow (fits too tight) my real shape, properly hides the part where I don't want show.
- Because of natural draping weight, RaQuna Style makes my leg slim and straight.
- Because of rubber string in the waist part, it doesn't drop when I squat. No gap space around my hip when I crouch and squat.
No.2 Feeling cool
- Due to the functio of "cool touch feeling" texture, I feel cool when I wear RaQuna Style.
- It absorbs sweat and gets dry very fast and this effect keeps inside of cloth cool.
- Due to more than 1000 times twisted yarn the air permeability is so high, very cool.
- Due to UV cut function I don't have to worry sunlight.
No.3 Easy washing and keeping
- RaQuna Style seldom wrinkles.
- Quick dry after washing.
- No need to press with iron.
No.4 Feeling comfortable
- Easy and fast to wear, take off because of rubber string.
- Because of elasticity of rubber string, I don't have to loosen waist part after eating a lot.

2. Why Japanese customers bought RaQuna Style
- beautiful shilouette.
- easy to wear daily.
- comfortable and cool to touch, wear.
- seldom wrinkle, convenient for travel and long hours transportation.
- high quality raw material and production, all made in Japan.
- high durability, long product lifespan.
- valuable than price.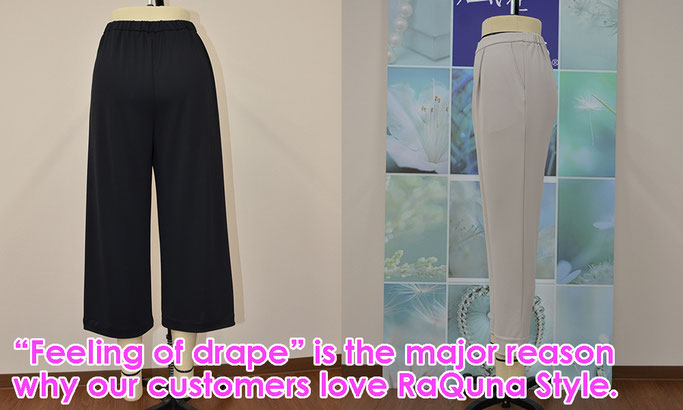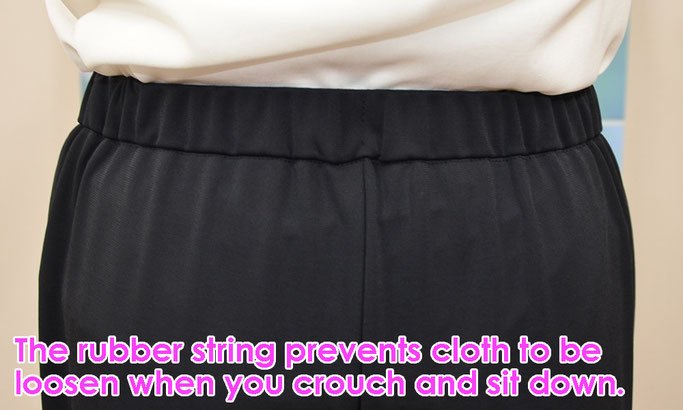 [7] Message from president

You would have tried and worn many clothes so far. How many times have you met your favorite one which made you feel destiny "That's exactly what I've looked for!"? Perhaps our RaQuna Style will be the one you have looked for, completely made in Japan.
Raw material, production method, patterning, we are confident with all factors and benefits of RaQuna Style, and it has been sold 200,000 last 3 years. Joy to meet, wear and keep "real good one" is also yours. We want you to enjoy wearing it with your favorite clothes through RaQuna Style. Our wish is "to make women more beautiful and happier through the product". Enjoy RaQuna Style!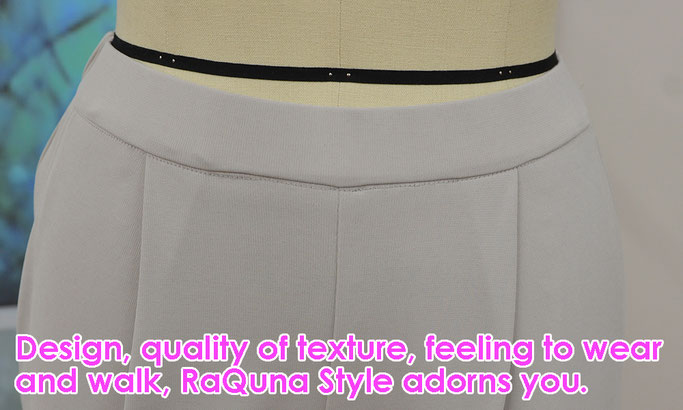 [8] FAQ

Q1. Is OEM (Production in your private brand) possible?
A. Yes. Please ask us the detail.
- Quicker if you need to change the size only.
- If you want to change color, it will take longer (depends on the quantity and the lead time you want)
- If you want to change the design, it will be faster if you can provide us with the pattern.

Q2. Do you exhibit RaQuna Style in trade show?
A. Yes, 2 times per a year in Tokyo and Hiroshima.
- September : Spring, summer design fair in Tokyo and Hiroshima.
- March : Autumn and winter design fair in Tokyo and Hiroshima.

Q3. How is the production cycle?
A. 2 times a year. (Spring/summer, Autumn/winter)
- 30-40 new items for spring and summer, 20-30 items for autumn and winter.
- For larger order, we have several OEM products.

Q4. Can you quote in CIF price?
A.Usually our quote is based on FOB Fukuyama port, but if you prefer CIF (Cost, Insurance and Freight), it's possible. Please tell us the port of discharge in your country.

Q5. Can we order in the exclusive contract?
A.Basically possible. For further detail and conditions please ask.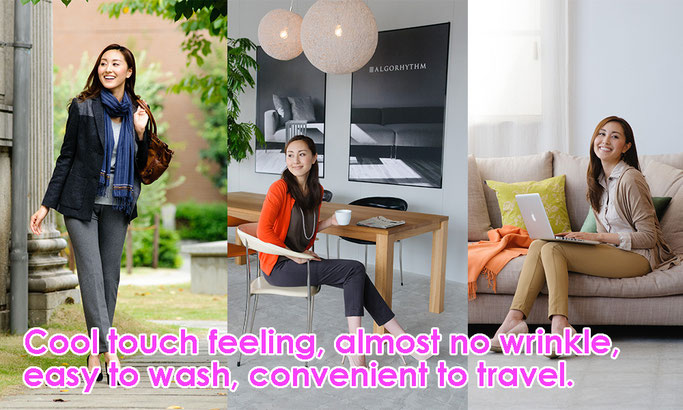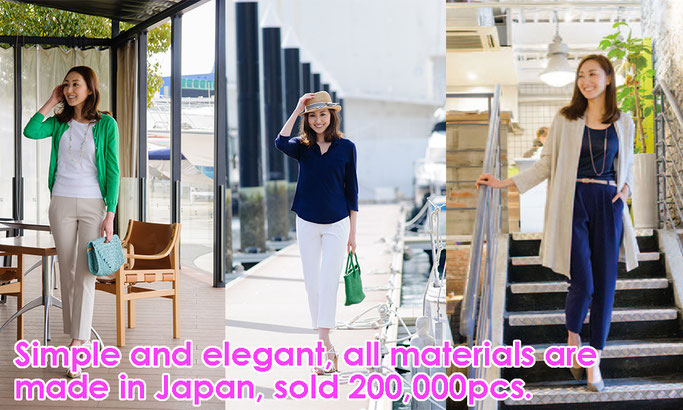 ---