MT-21 keeps natural color of matcha longer and makes mixing with water easier.
---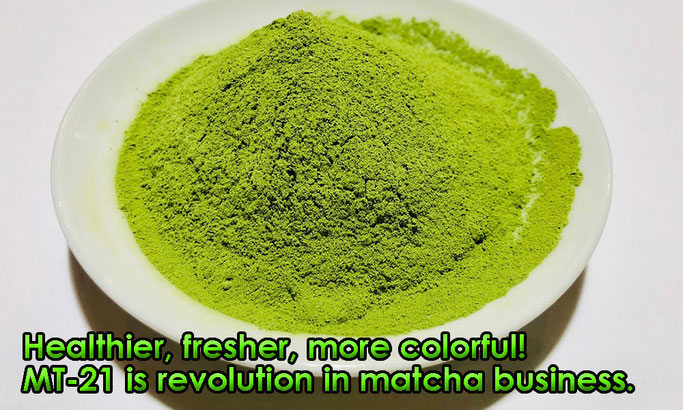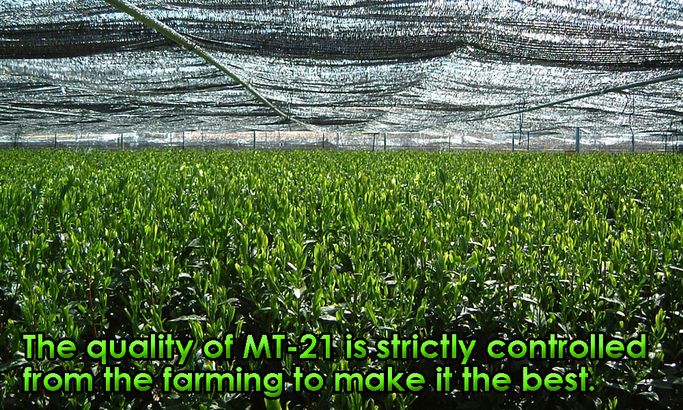 1. Product feature

Matcha Revolution!
Because of its favorable color, taste and fragrance, Matcha contains large variety of healthy elements such as catechin and vitamins that have been widely used for healthy products and many kinds of processed food.
However, the discoloration during the processing and storage period had been a concern for the manufactures.
Now, we have finally developed a brand new product to solve the problem. "Matcha MT21" preserves the brilliant green tone without losing its original taste and color.

2. Competitiveness of product

1. Matcha color stays longer: MT-21 preserves its brilliant green during storage and processing period and delays discoloration.    
2. Clearness of color:  MT-21 can produce clearer color and higher quality than existing Matcha in the same grade.    
3. Keep the flavor:  MT-21 does not contain any other external ingredients such as chlorella.
※confirmed the feature of the raw material powdered green tea
4. Easy to mix:  MT-21 hardly produces lumps out of a mixture to increase the efficiency and productivity of food processing.
5. Improvement of property:  MT-21 can prevent aging of starch, stretch of noodles and keep moisture of the product by the function of trehalose. Trehalose also lowers moisture absorbency and keeps its quality during the storage.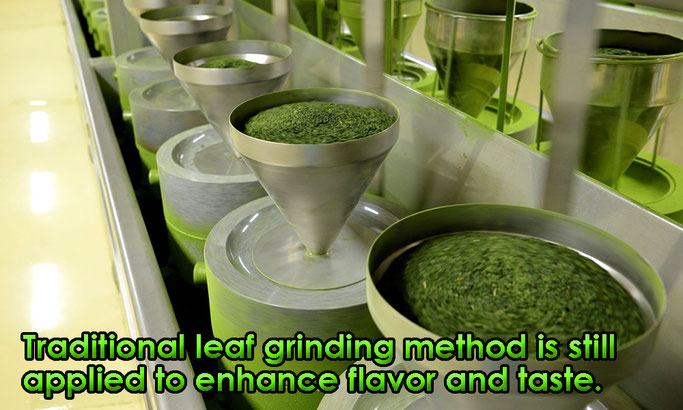 [1] Product Outline
1. Common product name : Powdered Green tea for Food Processing
2. Brand name : Matcha MT-21
3. Product origin : Saga, JAPAN
4. Raw material and ingredient : Ingredients : trehalose, powdered green tea, milk calcium
Package:alminum bag
5. Production process and method : Mixing with trehalose and milk calcium →Adding powdered Matcha green tea →Inspection(Brix, Color, Moisture)→Removing foreign substance(magnet9,000gauss)→Sieve(20mesh)→Filling →Weight check→Packing→Weight check→Shipping
[2] Quantity and size

1. Product lineup : 1kg pack :(NET)1kg/pc Size:330×230(mm)in aluminum bag
2. Size and weight of package : 1ctn:10kg(1kg×10pc) Weight(GROSS):10.551kg/ctn Size:406×285×250(mm)
3. Shelflife : 1 year after production
4. Temperature and storage : Store in cool, dry, dark, odorless place. Please avoid direct sunlight and humidity.
[3] Price, Payment terms, sample
1. Price : JPY 5,000/kg Ex-Work in the port of Nagoya or Fukuoka (Hakata)
Check RATES and DELIVERY DAYS (EMS by Japan Post)
* Please choose "Parcel, Weight, Fukuoka" and your country.
2. Payment terms : Cash in advance
3. Payment method : D/P (Payment against Document), PayPal, T/T
4. MOQ : 1 carton (10kg *1kg : 10pcs)
5. Maximum supply volume : 1,000kg/month
6. Lead time : Shipping 7 days after confirming payment (if the order volume is big, we need 30 days to produce)
7. HS-code : 2101.20
8. Availability of free sample : 50g pack x 10
(EMS freight must paid by buyer)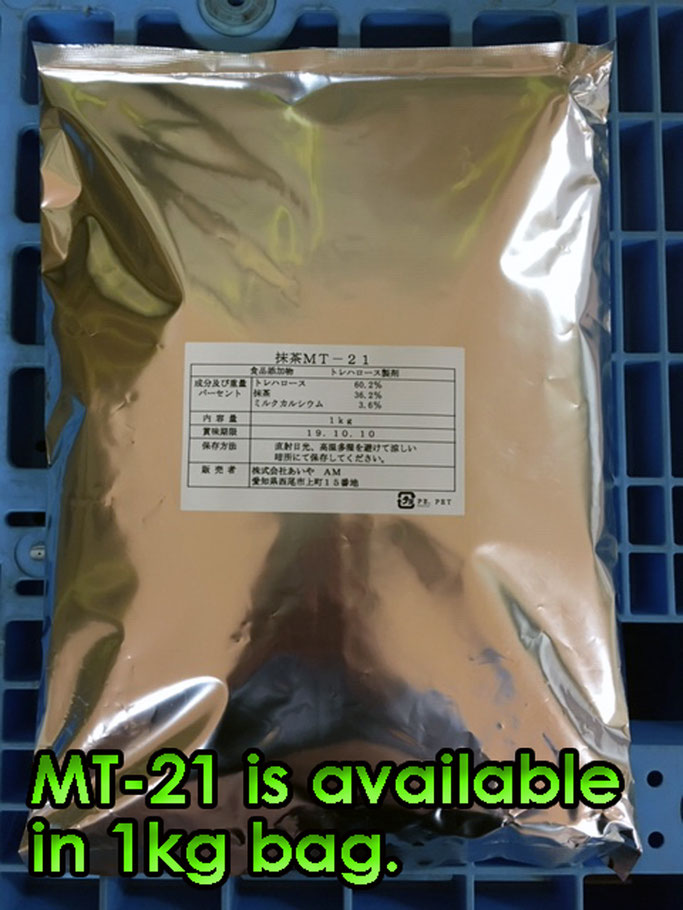 [4] Certificate and document

1. Available certificate : SQF (Safety Quality Food), HACCP, FSSC22000
2. Available test report : Agrochemical residue, bacteria, heavy metal test reports
3. Certificate of origin : Available
4. Product liability insurance : Available in Thailand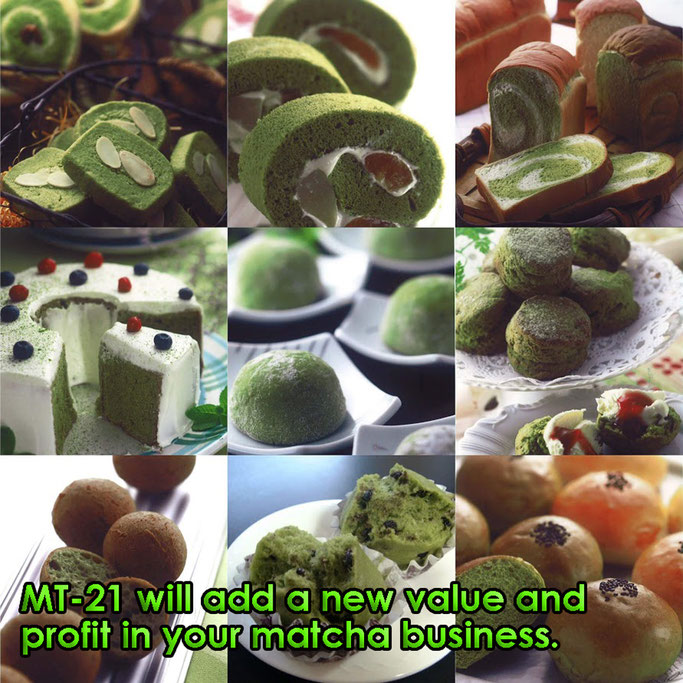 [5]Sales and testimony in Japan
1. Type of customer in Japan : Japanese / Western confectionary stores,
cafes, bakeries hotels, resutaurants
2. Sales record : 100-200kg/month
3. Testimony of customer : The work efficiency at the food processing site has been improved due to the good dispersibility.  MT-21 got the high evaluation about its quality retention.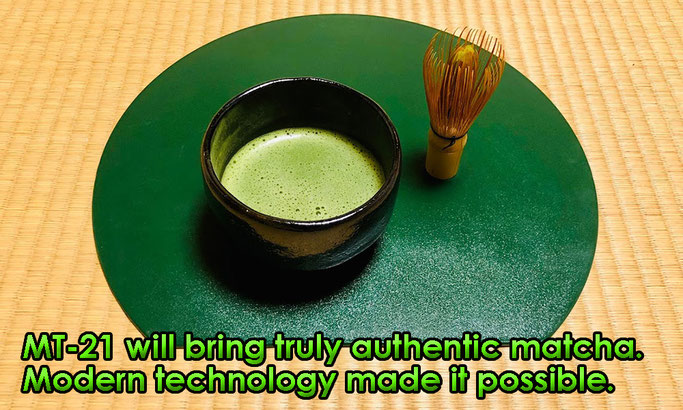 [6] Benefit for health, how to use
1. Benefit for health :
1) Original green color of matcha lasts long with vivid tone.
2) Mellow taste. Melting good during processing.
3) The finished product has a good texture even after thawing. It retains the same smoothness.
4) Baked confectioneries can be cooked better with Matcha MT-21 than with ordinary green tea powder in the combination with sugar.
2. How to cook, prepare : Use as ordinary green tea powder.
3. Recipe
1) Use in Japanese confectionery (Warabi mochi, sheepskin, manju, daifuku etc)
2) Confectionery (jelly, cake, chocolate, candy, baked confectionery)
3) Frozen dessert (soft cream, ice cream , sherbet etc.)
4) Noodles (tea soba, pasta, Tea udon, etc.)
5) Other (beverage, dumpling skin etc)
* We would like to prepare for some recipes that can be introduced locally in Thailand.
※ Preparing 10 recipes in English
4. Precaution : Moisture absorption and lingering scent after opening the bag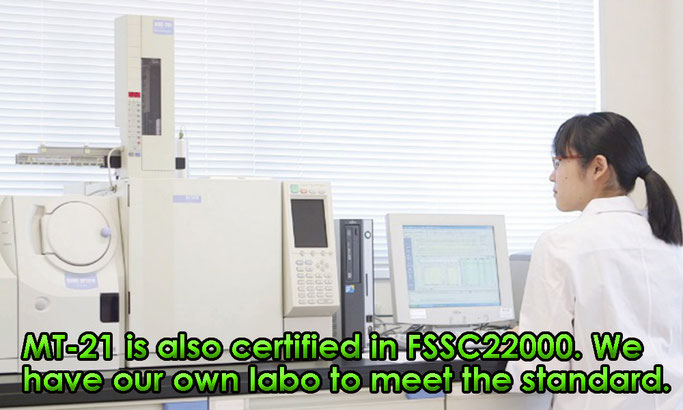 [7] Message from president

Before we developed MT-21, we had a lot of problems in food processing using conventional green tea powder. It has been difficult to measure accurately due to scattering, hard to mix uniformly. And it has been easily getting lumpy due to the bad solubility. The vivid green color of the matcha faded for a short period. The quality, taste and fragrance were also  deteriorated by heat.
MT-21 could dramatically solve the problems by making full use of functionality of trehalose.  By combining with trehalose, MT-21 enables us to enjoy matcha less sweeter, healthier taste and made vibrant matcha color last longer.
When used in baked goods, they can be baked in more beautiful green color. The green tea sweets and cakes are finished fuzzy keeping moist, rich flavor and fragrance of matcha.  Please try and make full use of MT-21 to make your product more competitive and unique in  the expanding matcha processed foods market.
[8] FAQ

Q1. What is trehalose?
A. It is low sweet multifunctional carbohydrate. Functional saccharide that keeps the state of creation for a longer period and can enhance taste when used in cooking, confectionery, bread. It is a sugar made from starch such as corn, sweetness is about 40% of sugar. Trehalose is a saccharide contained in foods such as mushrooms, bread including yeast and beer.

Q2. What is milk calcium?
A. It is 100% natural calcium extracted from whey (whey).
---