Very rare herb found only in south Kyushu, has many benefits in your health.
---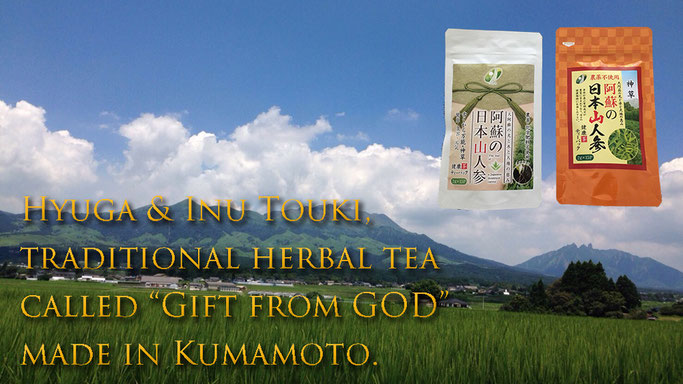 1. Product feature

Hyuga Touki (日向当帰) and Inu Touki, in other name "Nihon Yama-Ninjin (Japanese mountain carrot)" are Japanese ginseng that grow in southern part in Kyushu island, called "Gift from God". It contains 38 kinds of mineral, vitamin, ingredients in leaf and root. Due to its too high nutrition, root of hyuga touki must be prescribed by doctor in Japan, however the leaf of hyuga touki is edible. Root of inu touki is also edible.
In Japan hyuga touki and inu touki have been drunken in tea, to reduce blood pressure. The production has been limited for many decades so far, but now it's available abroad! Enjoy healthy life with our hyuga touki and inu touki tea!
2. Competitiveness of product

Our hyuga touki and inu touki tea are planted in our own farm located in Aso mountain, Kumamoto, that is famous for world largest caldera and pure fresh mineral water. With rich natural water source and completely organic soil, our hyuga touki grows very big and healthy. The price of our tea is also reasonable compared to other hyuga touki and inu touki products.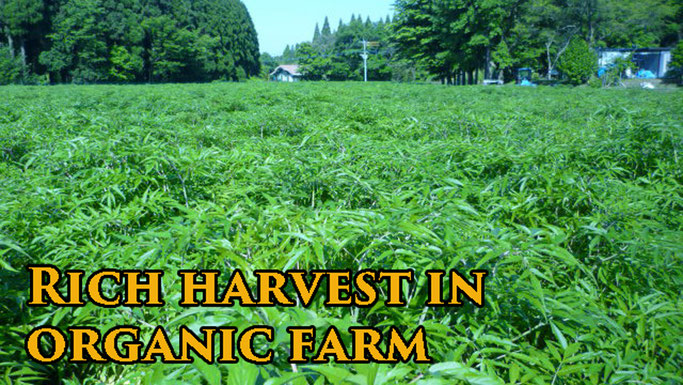 [1. Product outline]

1. Common product name : Hyuga Touki & Inu Touki Tea
2. Brand name : Nihon Yama-Ninjin Tea (Japanese mountain carrot tea)
3. Product origin : Aso, Kumamoto Japan
4. Raw material and ingredient : Hyuga Touki Leaf Powder, Inu Touki Root Powder
5. Production process and method : Harvest, washing, drying, crush into powder. packaging
* Nutrition facts
- Energy : 372kcal
- Protein : 11.1g
- Fat : 5.2g
- Carbonhydrate : 70.3g
- Ash content : 10.0g
- Sodium : 2mg
- Potassium : 2500mg
- Calcium : 1900mg
- Magnesium 130mg
- Phosphorus : 200mg
- Iron : 50.4mg
- Zinc : 3.0mg
- Copper : 0.79mg
- a-carotene : 14µg
- b-carotene : 3000µg
- Cryptoxanthin : 40µg
- b-carotene equivalent : 3000µg
- Retinol equivalent : 250µg
- a-tocopherol : 15.5mg
- b-tocophorol : 1.1mg
- y-tocopherol : 0.4mg
- δ-tocophorol : 1.4mg
- Vitamin K : 890µg
- Vitamin B1 : 0.03mg
- Vitamin B2 : 0.59mg
- Niacin : 4.4mg
- Vitamin B6 : 0.46mg
- Vitamin B12 : 0.29µg
- PGA folic acid : 51µg
- Pantothenic acid : 0.83mg
- Vitamin C : 2mg
- Selenium : 0.03ppm
- Coenzyme Q10 : 3.2mg
- Hydroxyproline : 0.14g
- Ferulic acid : 34mg
- Silicon : 2040ppm
- Vitamin E : - 184mg
- YN-1 (organic compound)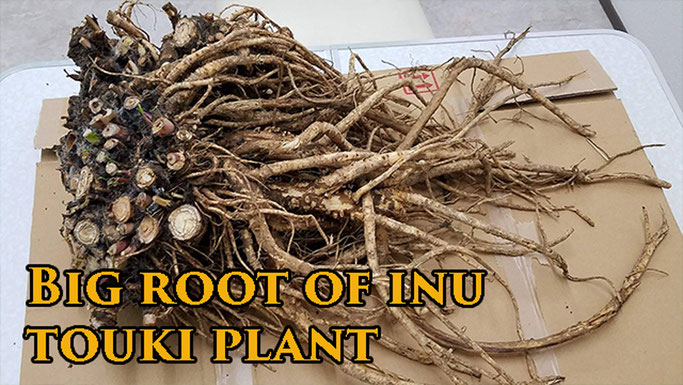 [2.Quantity and size]

1. Product lineup
 1) Tea pack of hyuga touki leaf and inu touki root : 2g x 15 packages (Hyuga touki leaf 1.3g, Inu touki root 0.7g)
2) Hyuga touki leaf and inu touki root aojiru (green barley drink) : 3g x 20 packages
3) Tea pack of Hyuga touki leaf : 2g x 15 packages
4) Powder of Hyuga touki leaf : 30g
2. Shelflife : 1 year after production
3. Temperature and storage : Store in dark place in normal temperature, avoid direct sunlight and humidity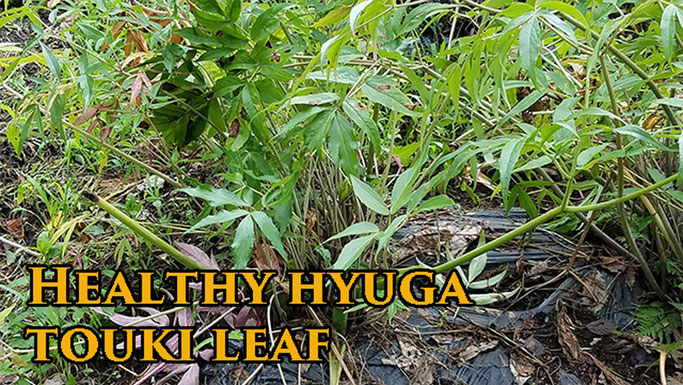 [3. Price, Payment terms, sample]

1. FOB price
1) Tea pack of hyuga touki leaf and inu touki root (2g x 15 packages) :  JPY 1,780
2) Hyuga touki leaf and inu touki root aojiru (green barley drink, 3g x 20 packages) : JPY 1,880
3) Tea pack of Hyuga touki leaf (2g x 15 packages) : JPY 1,380
4) Powder of Hyuga touki leaf (30g) : JPY 2,780
Check RATES and DELIVERY DAYS (EMS by Japan Post)
* Please choose "Parcel, Weight, Kumamoto" and your country.
2. Payment temrs : Cash in advance
3. Payment method : Paypal, Western Union, T/T
4. MOQ (Minimum Order Quantity) : 20 packages
5. Maximum supply volume : 1,000 packages/month
6. Lead time : EMS Delivery in 5 days after confirming payment
7. HS-code : 1003.90.000
8. Availability of free sample : 2 packages/1 buyer
(EMS freight must paid by buyer)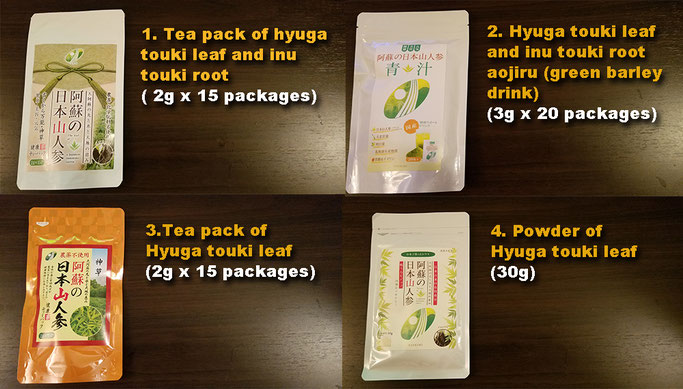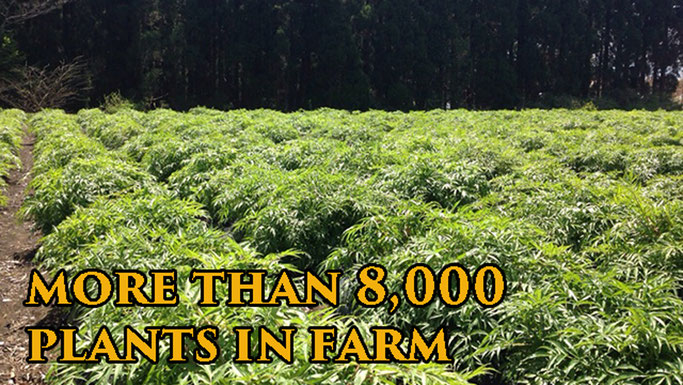 [4. Certificate and document]

1. Non-agrochemical residue report : available
2. Certificate of origin : available

[5 Sales and testimony in Japan]

1. Type of customer in Japan : people over 40 years old
2. Shops in Japan : sold online
3. Testimony of customer : Countless customers from all over Japan love our hyuga touki tea and aojiru because of its high nutrition, reasonable price, portable package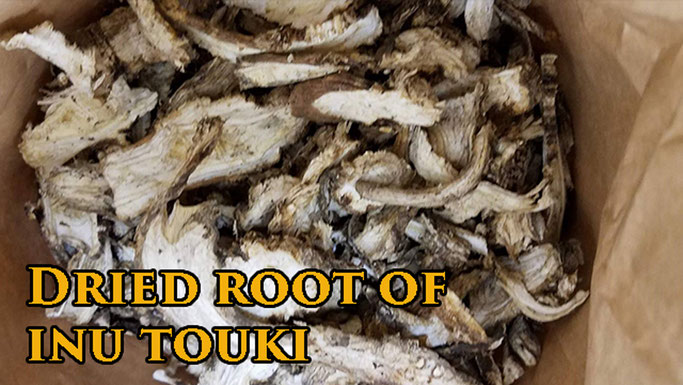 [6 Benefit for health, how to use]

1. Benefit for health : Hyuga touki leaf and Inu touki root are said to be good for enhancing immune activity, anti-cancer, enhancing liver, anti-diabetes, anti-high blood pressure, enhancing blood circulation, anti-oxidation, keep your body warmer, balancing woman period cycle
2. How to cook, prepare : Pour 150-200ml water in 25-60℃. If you feel bitter, please add small amount of sugar or honey, or drink with dry fruits.
When you drink in tea pack, please put 1 x 2g bag in 2 liter of normal temperature water, shake well, leave 1 minutes.
3. Caution : If you are pregnant woman please avoid drinking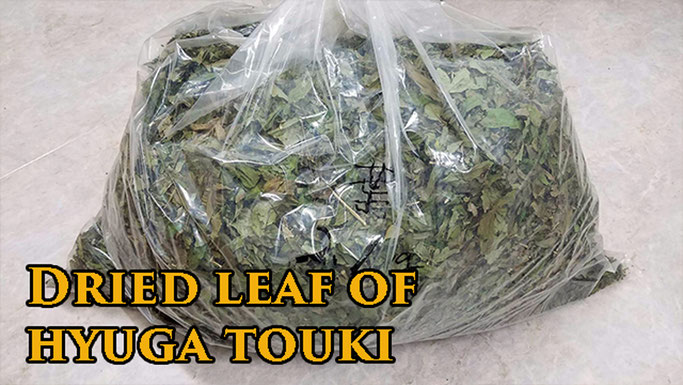 [7 Message from president]

Mr. Masaji Honda, CEO of Tsukimi Nouen Co., Ltd (Kumamoto Japan)

We, Tsukimi Nouen proudly present our organic hyuga touki tea that has been called "gift from God" in southern Kyushu island, the area famous for long healthy life in Japan. Hyuga touki and Inu touki had been very rare due to its difficulty to plant, however we plant, harvest in larger volume without losing our organic traditional production method. Among all hyuga touki in Japan, only our hyuga touki root can grow more than 5kg, normally it is 3-3.5kg in average. Because our hyuga touki is planted in wild natural environmnent in Aso Mountain.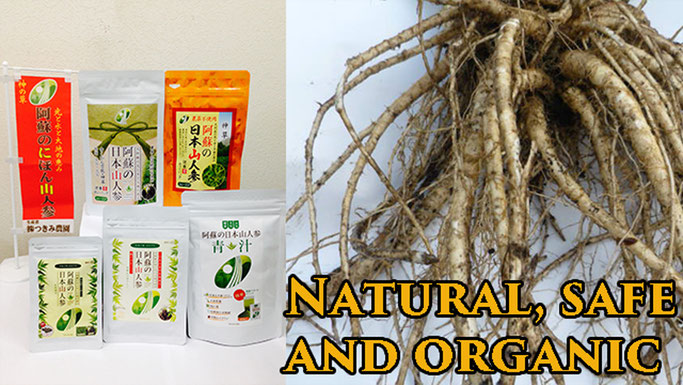 [8 FAQ]

1. Where is hyuga touki harvested in Japan?
A: It is harvested in Kumamoto and Miyazaki, sourthern part in Japan. Hyuga touki is very selective in soil, climate, temperature/
2. For what purpose does Japanese customer drink it?
A: Most consumers drink it to prevent or reduce high blood pressure naturally without depending on medicine. Secondly customer likes hyuga touki to prevent diabetes. Women like it to keep their body warmer, or to prevent breast cancer.

[9 Area distributors]

We have local distributors in,
- Europe
- Middle east
- United states and Canada
---