Multi functional matcha powder
---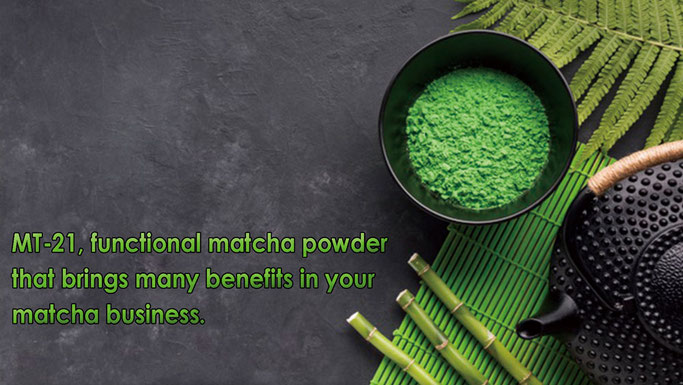 1.Product Outline
1) MT-21 is a functional matcha powder for food manufacturer, restaurant, cafe, bakery company.
2) Easier in mixing, faster in processing, longer in keeping natural matcha color.
3) Original green color lasts longer compared to ordinary matcha powder. Trehalose brings benefits such as preserving high quality, keeping good food texture, preventing sediment, preventing loosen noodle, keeping sufficient moisture in your menu.
4) MT-21 has obtained patent in the production (mixing) technology.
5) MT-21 has been adopted as useful ingredient to attract customers in many clients such as bakery, confectionery shop (western, Japanese) and most testimony proves the superiority in improving productivity and adding value in their menu.
2. Competitiveness of product
1) Raw material and ingredient
MT-21 is made of 100% made in Japan matcha. Different flavor ingredient such as chlorella is not used so you can enjoy authentic matcha taste.
2) Production method
You can choose your favorite grade and product origin matcha.
3) Quality
MT-21 has obtained FSSC22000, SQF (Safe Quality Food), HACCP certificates.
4) Usage
High dispersibility and solubility for easier, faster processing.
5) Business
Shelf life of your menu will be extended and you can save food waste.
3. Common product name : Green tea (matcha) powder
4. Brand name : Matcha MT-21
5. Product origin : Saga, JAPAN
6. Ingredient and nutrition fact
- Ingredient :  Trehalose, matcha, milk calcium
- Nutrition (per 100g) : Energy 336kcal, protein 11.3g, fat 2.2g, carbonhydrate 74.5g (carbonhydrate 61.1g. dietary fiber 13.4g), Sodium 16mg, moisture 7.1g, ash content 4.9g, saturated fatty acid 0/27g, trans fatty acid 0, cholesterol 0
7. Production flow
Mixing trehalose and milk calcium → adding matcha → inspection (brix, color, moisture) → Removing impurities (magnet 9,000 gaus) → Separation (20 mesh) → Filling → Weight check → Packaging → Weight check → Distribution
8. Measurement, quantity and weight
Sachet : 2g/pcs (L 8cm, W 1cm)
Carton : 30 sachets (L 9cm, W 10cm, H 4cm) 160g including outer carton
9. Carton size for export
L 40.6cm, W 28.5cm, H 25cm in cardboard carton
10. Shelflife : 1 year after production
11. Storage : Please store in cool, dark, no smell place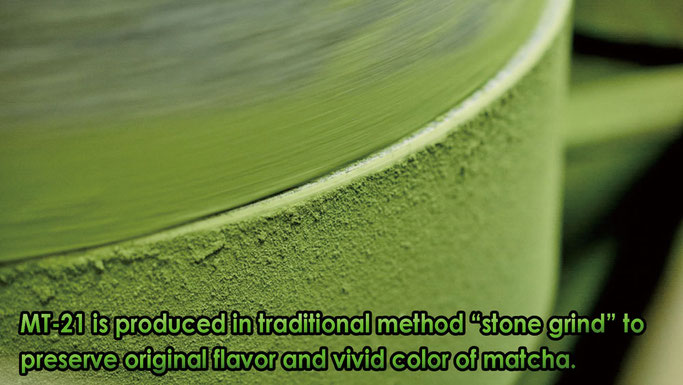 [2. Price, terms and conditions]

1. FOB price : JPY 5,000/kg (port of Hakata)
2. Payment terms : Cash in advance
3. Payment method : T/T (Japanese Yen)
4. MOQ : 20kg (2 cartons of 10kg)
5. Maximum supply volume : 1,000kg/month
6. Raw material of package : aluminum and cardboard paper
7. Numbers of cartons per a pallet : 60 cartons
8. Cartons in 20FT container : 480 cartons (8 pallets)
9. Cartons in 40FT container : 720 cartons (12 pallets)
10. EMS air freight to middle east countries : JPY 7,000/kg
11. Lead time : Shipping in 3 days after confirming payment
12. HS-code : 2101.20
13. Availability of sample
10 x 50g in JPY 5,000 (including EMS air freight)
14. Warranty
If the product is detected to be inappropriate in loading, we replace it to new product.
15. Product Liability insurance : available (in UAE)
16. Availability of OEM, ODM, PB (Private brand) : Available
17. Available distributorship : Please ask.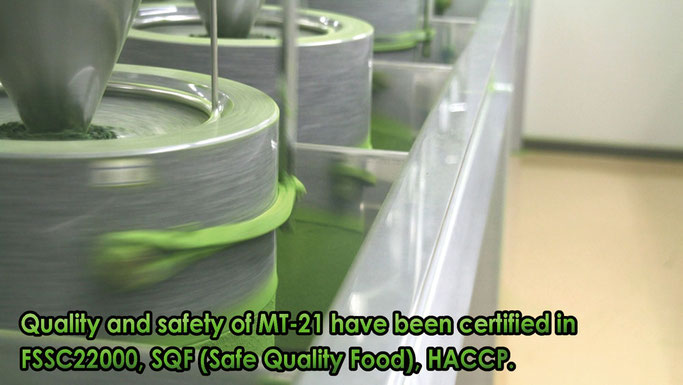 [3. Sales information]
1. Available certificate
- Factory of matcha : FSSC22000 (5 Mar 2017)
- Farm : ISO22000 (2011)
- Factory of MT-21 : SQF Quality code (Edition 8.0, 25 Jul 2018)
2. Available test report : Nutrition analysis, bacteria test
3. Certificate of origin : available
4. Award, press release : not yet
5. Main customer, client in Japan : Confectionery shop, food/sweets manufacturer (western, oriental), cafe, bakery, hotel and restaurant
6. Testimony of client
- We could reduce some production processes with MT-21 (bakery)
- We could save time in the preparation process of sweets (patissier)
- Food texture and flavor of Panna Cotta was improved after adopting MT-21.
7. Suggested volume (standard usage, &)
Ice cream 3~4%
soft serve 3~4%
Yogurt 1.2~1.6%
Pudding 3~4%
Jelly 0.5~0.7%
Bavaroa 1.2~1.5%
Sweet bean jelly 0.4~0.6%
Chiffon cake 2.2~3.0%
Steamed cake 2.5~3.0%
Castella 4~5%
Cookies 2.5~3.0%
Daifuku (rice cake with red bean) 2~3%
Tofu (taofu) 1.5~2%
Noodles    1.5~2%
8. Popular menu, recipe
Rice cake (and major Japanese sweet cakes), western sweets (jelly, cake, chocolate, candy, bakery), ice confectionery (ice cream, soft cream, sherbet), noodle (soba, pasta, udon), gyoza etc (we have MT-21 recipe book)
▼Recipe in English (PDF files)
9. Precaution
Please finish MT-21 as soon as possible after opening. Please be careful of humidity and fragrance after opening.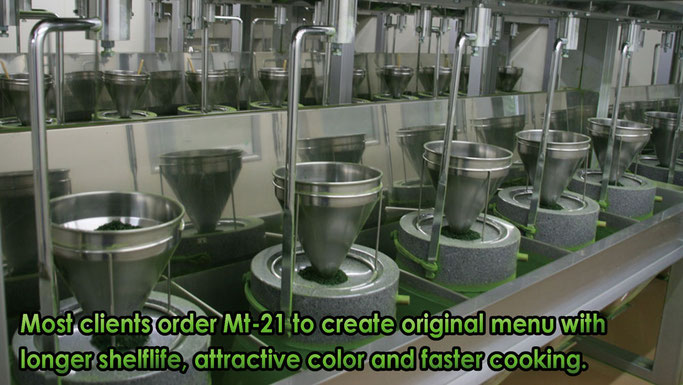 [4. Message of the president]

Matcha has become popular recently around the world and many unique products have been served. However there are some problems such as difficulty in weighing, mixing, becoming solid due to low solubility, vivid color doesn't last long, deterioration by heat... you may have faced the similar problem.
MT-21 has been developed to solve these problem with our unique method. If you use MT-21 your customer can enjoy vivid color, natural flavor, better food texture and visual attraction with improving productivity.
[5. Contact information]

Foodium Tokunaga co.,ltd. (Fukuoka, JAPAN)
Director Tokunaga Masahiko
Mail: masahiko@foodium.co.jp
---